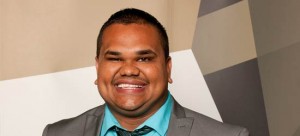 At the Australian Training Awards held in Brisbane, Joshua Toomey took home the Student of the Year award in the Aboriginal and Torres Strait Islander Award category.
Joshua completed his Certificate III Electricity Supply Industry – Distribution (Power Line) and is proud to be a qualified tradesman now. However, finishing his studies was not always that easy.
After Joshua hit rock bottom a few years ago, he made the decision to take control of his life. In 2006, he joined electricity supplier, Ausgrid, through its Aboriginal and Torres Strait Islander Pre-Apprenticeship Program.
Josh set about knocking down barriers in his life he had previously accepted. With focus and diligence he gained a highly sought after apprenticeship position.
"I decided I was going to be responsible and be a good role model for my child. It wasn't always easy getting up at 5am for four years and dealing with different people but the other side of the coin was that feeling I had of self worth," says Josh.
Joshua's strong academic achievements throughout his training reflect his dedication and determination to succeed, particularly as he began his pre-apprenticeship course with only basic literacy and numeracy skills after dropping out of high school.
"Before, I had never committed to finishing anything, but I worked hard and kept it simple. I found extra help and just kept coming back. My TAFE teachers worked with me and I studied hard. Now I love my job and the weapon of education. It's knowing – not guessing all the time, and asking questions for myself instead of relying on what someone else tells me," he says.
With his communication skills, self determination and remarkable ability to motivate and encourage others, Joshua has not only transformed his own life over the last five years but also the lives of many other young Aboriginal people.
With an acute awareness of the barriers that face many young Aboriginal and Torres Strait Islander  people during and after school, Josh is now strongly involved in the Aboriginal and Torres Strait Islander Pre-Apprenticeship Program, actively mentoring and supporting new students.
In 2010, Josh developed a session for the program called 'Getting Right for the Fight' which highlighted a range of ways students could prepare themselves for training and employment challenges. He has undertaken a range of leadership training programs, and is determined to support others in the way he has been supported.
"Before I always thought people were better than me," says Josh, "today I'm comfortable with myself. What kept me going when times were tough was my TAFE teachers – I got so much kindness, respect and love from them – they molded me back to life. I can pass all of that on now."
If you would like to find out how you can start an apprenticeship, visit www.australianapprenticeships.gov.au or call 13 38 73.