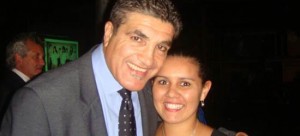 A young lady who enjoys organising social events and who loves rugby league has been able to blend these two passions into a career by landing a traineeship with the NRL.
Tanika Perry, from the mid-north coast of NSW, is now a trainee in events management with the NRL. She is working with the NRL team that organises events for special games, as well as big corporate events.
During the first few weeks of her traineeship she has been busy settling in and working with the events manager. She has also been hands-on, cueing the entertainment performances for the Indigenous All Stars match at the Gold Coast on February 4.
"This is only my third week. My first two weeks culminated in going to the All Stars game. It was full on," she says.
"It was a great experience and an amazing feeling being there and seeing it all from the field before the game in front of that huge crowd. You felt like you were in the game."
She says an events manager organises many facets of the activities and entertainment at NRL games.
"We also organise a lot of players' meetings in the communities – going back to where they are from through the Ambassador Program," she says.
Tanika was brought up on rugby league. Her father, Mick, is a major sponsor of the local team – the Forster-Tuncurry Hawks.
"I just love footy. I played it from the age of five until I was about eight," she says.
She then started playing netball, which she played at a representative level, but still remained passionate about football and enjoys playing touch footy.
She also enjoys organising events, a skill that is particularly useful in her new job, but her interest in events management originated out of helping organise school fundraisers and the South Sydney Rabbitohs' Red and Green Ball.
In Tanika's case the loneliness of moving away from family to Sydney to start the traineeship was lessened by the fact that she had already spent the last few years in Sydney attending Kincoppal Boarding School as part of the Australian Indigenous Education Foundation (AIEF).*
"Going to boarding school sounds daunting but, at the end of the day, moving out of small communities to pursue your dreams, to try something new and see the bigger world is what it is all about."
Tanika's advice to others who want to get into this area is to stick at school.
"School is a big thing that got me into this job. Stick at school, as much as you might hate it. To get a job or get into Uni you just have to put your mind to it and stick at school to get an awesome outcome. Dreams can really come true then."
*The AIEF provides scholarships at private boarding schools as well as one-on-one career case management to help students make the transition from school into careers of their choosing.