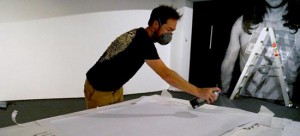 With his striking artwork 'Australia was Stolen by Armed Robbery', Jason Wing has won the 2012 Parliament of New South Wales Aboriginal Art Prize. The prize, worth $40,000, is one of the richest prizes on offer for an Aboriginal artist in Australia. The work is a bust of Captain Cook wearing a balaclava.
Jason said, "Winning encourages me to continue working hard in the future. It is also important that the Australian Government acknowledges and accepts how Aboriginal people feel about Australia's past and present history. This money allows me to make bigger and better works of a greater quality. I will reinvest the money into my art and create artworks that speak for the Aboriginal community to influence social change. I will spend the rest on a van, so I can travel regional Australia and conduct mural workshops for remote communities to empower the youth and elders."
Jason's mum comes from the Biripi people in the vicinity of Taree on the mid-north coast of NSW and his dad is Chinese. He grew up in the Sydney suburb of Cabramatta and, after getting degrees in fine arts and graphic design, he emerged on the national art scene and became known for his explorations of bicultural and Indigenous identity.
Art was a natural career choice for Jason. "I am a kinaesthetic learner, so my brain is hardwired for visual communication," he said. But recognition of his talent was important, too. "I created my first artwork in 2005 for the Blacktown Art Prize and I won the award for best local artist. Winning this prize encouraged me to keep making art."
Jason is currently undertaking an artist's residency in Beijing. "The more I travel to China, the more I see similarities between Chinese and Aboriginal people struggling with the dispossession of land and traditional culture by Government policies," he said. "I am creating a fibreglass red-bellied black snake that's three-metres high in Beijing. The concept refers to the Australian status quo, promoting fear of both China and Aboriginal people. This work explores themes of power, fear and survival. Travelling overseas has made me focus more on international human issues."
His advice to young Indigenous artists is to "experiment with all forms of art, and do not lock your self into one style or medium. I would strongly suggest that young artists focus on photography and multimedia art, as this is the strength of the younger generation. The NSW Parliament Prize will be introducing a multimedia section, which will engage and support the next wave of Aboriginal and Indigenous artists."