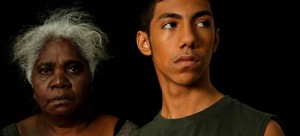 When you're onto a good thing, stick to it, or so the saying goes, and after two decades in the performance business, Stephen Page and Bangarra Dance Theatre can certainly attest to being onto a very good thing.
During that time, Stephen and a select number of cultural mentors and talented dancers have helped transform the company into one of the world's premier dance troupes.
However, walking the tightrope that is artistic progression means continual evolution and it's that eagerness to explore new territory that gives Stephen Page's latest production, Bloodland, its most unique element. The man himself credits it as one of the most challenging works he has been involved in.
The plot of Bloodland revolves around a tale of forbidden love in a desert community, with a cast of 12 Indigenous actors and traditional Yolngu storytellers, using traditional languages, pidgin English, dance and song to convey the story.
A collaborative effort between Stephen Page and writer, director and actor Wayne Blair, the concept for the play was hatched during a catch-up over coffee.
"Wayne Blair and I worked together in 2000 on a Bangarra production called Skin, which had two sections: a women's section and a men's section," explains Stephen.
"Wayne and I caught up for a coffee about a year and a half ago and started talking about the magic that was in that production, of doing contemporary men's story through music, drama and dance.
"Cate Blanchett and Andrew Upton from Sydney Theatre Company were always interested in me directing a more dramatic play, and so they gave me this great freedom and said if you've got a story, bring it up. I said to Wayne, wouldn't it be great if we could have that Bangarra Dance Theatre experience, but involved with another medium of language?"
At Stephen and Wayne's side to help tell this story was current Bangarra artist in residence, Kathy Balngayngu Marika. She was enthusiastic about doing a current story based on issues affecting rural Aboriginal communities today – using Yolngu language, and teaching that language to urban black actors in the process.
"It's very rare that urban black actors get to perform in language, because a lot of our language has been taken away from us," says Stephen, "so to reclaim and rekindle and to exchange that language from another clan is a special thing.
"So it had all the elements going for it, but it wasn't easy bringing it all together and getting a general united spirit about the moral of it, but it's a current story, it's a new Australian Indigenous work, it's from the black perspective – and I just think we're planting another seed in the continuation of our stories."
Next generation
Adding to the cyclical quality of Bloodland is the presence of several young actors, including Stephen's son, Hunter Page Lochard, and Rhimi Johnson Page, who both appeared in Skin at the age of five. Over a decade on, both young men now find themselves starring in a production inspired by what was one of their first performance experiences.
For Hunter, playing the central character of Runu is his first major role in a play and the culmination of years of interaction, immersion and learning within the Bangarra family. Runu in Yolngu language means 'island', and much of the plot is driven by Runu's love of female character Wak Wak, played by Rarriwuy Hick.
"He's only about 15, and a bit naive and oblivious to everything else around him. For him it's all about love and he's not trained in the adult world just yet, but he's at the beginning of that process," says Hunter.
Hunter first appeared on stage at just six months of age in the arms of his father in Praying Mantis Dreaming, and he has also appeared in the films The Djarn Djarns and Bran Nue Day, as well as the series Water Rats and East West 101. Hunter says playing Runu has been the most challenging role of his acting career so far, and he describes Bloodland as his first "play-play".
"I've enjoyed working out how to get into that mode and into the mind frame of the character," he says. "When you're watching the play, it all happens in an hour and a half, but the actual story takes place over a period of months, so trying to be happy in the beginning and then doing some difficult things at the end was hard at first.
"I've enjoyed the process, though, of getting into those modes and looking towards actors I admire like Heath Ledger and Johnny Depp, who can get themselves into their character's mindset to make it a believable performance."
Bloodland is also another major milestone in the burgeoning acting career of 21-year-old Rarriwuy Hick, who shot to notoriety thanks to her role in the 2010 production Wrong Skin, which was a hit at the Darwin Festival and toured nationally, including playing at the Sydney Opera House.
From Dhalinybuy in east Arnhem Land but born in Sydney, Rarriwuy also has deep links with Bangarra – her mother Janet Munyarryun is a founding member and also danced for the company while pregnant with Rarriwuy. With an English-born father, Rarriwuy grew up living between Sydney and her mother's community in Arnhem Land, giving her a unique perspective and understanding of both urban and more traditional Aboriginal life.
Speaking about her role in Bloodland, Rarriwuy says she can strongly relate to her character, Wak Wak.
"She's a young teenager and she's not really interested in boys or things like that. She's more strong in culture and wanting to, one day, be a strong woman and carry that culture and teach the young ones," explains Rarriwuy.
Adding an extra dimension to the role and experience of being a part of this production has been the two-way teaching of being mentored by elders, respected actors and the director, while at the same time passing on her cultural knowledge and language to the cast.
"I've been helping Kathy Marika out with teaching language to everyone because this is my language and this is my culture," says Rarriwuy, "so I've kind of been teaching as well as learning to be an actor from the elder ones.
"It's been difficult but it's been lots of fun, everyone's patient and we all help each other. It's kind of funny sometimes, when they say the wrong words, but they're doing deadly, everyone's improved so much and speaking the language very fluently so it's great."
Something that both Hunter and Rarriwuy can attest to are the benefits that have come from getting involved in the arts. They hope more young Indigenous people will get involved in performance to overcome shyness and build confidence and self-esteem.
"When I was younger, I was always really shame," says Rarriwuy. "I was really shy, didn't want to do anything, I had no interest in acting at all, and I just suddenly fell into it last year. Just go for every opportunity you can, don't be shame, don't let that hold you down because you've got to be bigger than that, and if that's what you love to do and  it makes you happy, than that's what you've got to go for."