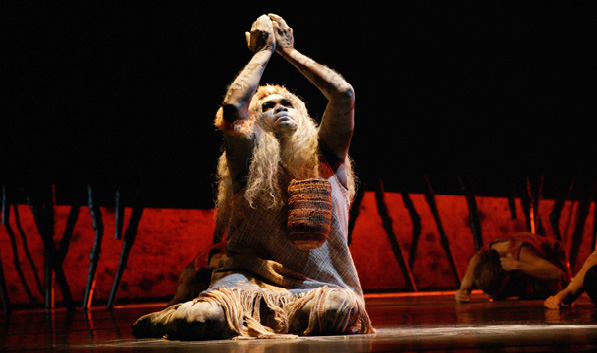 Bangarra Dance Theatre commences 2011 with three key events, comprising two vital fundraising performances and one of the biggest European tours the company has ever undertaken. Special performances of the awe-inspiring Spirit will take place at the Sydney Theatre on February 4 for indigenous communities affected bythe Queensland Floods and on February 5 in support of Bangarra's Indigenous Employment Initiative, prior to anintensive overseas tour.
Choreographed by Stephen Page and Frances Rings and set to an evocative musical soundscape by David Page and Steve Francis, Spirit is a rich celebration of the resilience of Indigenous culture. From the last breath of sunset to the first finger-light of dawn, the audience experiences a powerful engagement with Bangarra's stunning Indigenous performers: Kathy Balngayngu Marika, Sidney Saltner, Elma Kris, Yolande Brown, Patrick Thaiday, Deborah Brown, Jhuny Boy Borja, Waangenga Blanco, Tara Gower, Leonard Mickelo, Daniel Riley McKinley, Jasmin Sheppard, Perun Bonser, Ella Havelka & Tara Robertson.
Friday 4 February: Spirit Community Night Performance. Sydney Theatre, 8pm.
Queensland is home to many of our dancers, with family and friends affected by the floods disaster. All proceeds from ticket sales will be donated to indigenous communities affected by the Queensland Floods with Bangarra matching contributions. The performance is especially for Aboriginal and Torres Strait Islander people; our way of engaging audiences who may not normally attend theatre venues.
Saturday 5 February: Spirit Special Performance. Sydney Theatre, 8pm.
Patrons attending this special fundraising performance will contribute directly to Bangarra's Indigenous artists-inresidence and trainees program. An important Bangarra initiative, the trainee program will create jobs, build support mechanisms and develop professional and sustainable careers for Indigenous young people in on-stage and behind-thescenes roles within the Australian performing arts sector. Bangarra's current artists in residence include Frances Rings Choreographer, David Page Composer, Jacob Nash Designer and Kathy Balngayngu Marika Cultural Consultant.
February 18 to March 19: Spirit European tour.
Performing 23 times over 28 days in 17 cities, Bangarra will be touring Italy, Switzerland and Germany with its distinctive Australian production of Spirit. Led by Artistic Director Stephen Page, the fourteen Aboriginal and Torres Strait Islander Bangarra performers will be challenged by the intensity of the touring schedule across 4,100 km and the extreme cold weather! Bangarra is always warmly received by audiences on its international tours as it presents a truly authentic Australian performing arts experience.
Belong: A brand new double bill
On their return in April, the artists enter into the creative process for Belong: two new works by Stephen Page and Elma Kris, which has a performance season of Australian capital cities from July to September 2011.
MEDIA RELEASE: 24 JANUARY 2011
Bangarra's community spirit extends from Sydney to Queensland to Europe
MEDIA contact Carolyn Hammer, Bangarra Dance Theatre [email protected] or 9258 5118