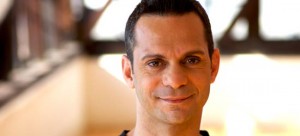 One of Bangarra Dance Theatre's longest serving dancers – Sidney Saltner – announced his retirement at the end of last year. Since joining Bangarra in 1997, Sidney has become one of Australia's most loved dancers, recognised for his extraordinary artistic ability and passion for Indigenous dance.
Following more than 1000 performances over the past 15 years, Bangarra's longest serving dancer, Sidney Saltner, retired from the company at the end of last year.
Sidney joined Bangarra in 1997 and danced his last performance with the company as a part of their regional tour of the production Mathinna.
Sidney is from the Wulli Wulli people of central Queensland and he has been nominated for and won numerous awards in what is considered to be a long career for a dancer at his level of professional performance.
In 2003, Sidney was nominated for Best Male Dancer in both the Australian Dance Awards and the 2003 Deadly Awards. In 2004, he was nominated for a Mo Award for his role in Bangarra's production of Bush.
Some handy accolades for a boy from the bush where the only dancing he ever saw was on television.
"Dancing is not in my family at all, except for my uncle who used to put bottle-tops under his toes and tap dance for us," Sidney says.
"But I always knew I wanted to be a dancer since I first saw it on TV. I am from a small country town – Theodore in Central Queensland – and the only dancing I saw was sometimes the Australian Ballet on the ABC on a Sunday afternoon or the Solid Gold Dancers.
"I was always in school productions at the end of the year and I always put my hand up for performances, but basically where I came from, back then there was no dancing whatsoever."
He moved to the city and studied at the National Aboriginal and Islander Skills Development Association (NAISDA). Following his graduation he performed with The Aboriginal Islander Dance Theatre (AIDT) and eventually became an Assistant Artistic Director there.
In 1997, Sidney joined the Bangarra Dance Theatre where his career has thrived under the leadership of Artistic Director Stephen Page.
Page says Sidney has been a major part of Bangarra's creative journey.
"In his 15 years with the company he has danced all of the significant repertoire. He has those rare qualities of distinctive artistry and character that has led to his being my muse in many of my works.
Sidney's knowledge and cultural appreciation of Bangarra is outstanding and he has made a most valuable contribution," Stephen says.
Sidney says some of the highlights of his career include joining Bangarra in the first place and working on his first production with the company – Fish, back in 1997.
"I have also loved being part of Bangarra's collaboration with the Australian Ballet and how it allowed me to travel to the United States, Paris and London as part of these shows," he says.
Working during the Sydney Olympics in 2000 was also a highlight. Having been with the company since its early days, Sidney spoke about how much Bangarra has transformed over the years.
"It has changed dramatically and choreographically – the way we put on shows, as well as the way the company works with publicity and media," says Sidney.
"It is a lot slicker the way the company is run now. We're not on a shoestring budget anymore and all of the hard work is paying off. Everyone knows who Bangarra is now."
Sidney has always been passionate about Indigenous dance.
"One of the reasons I joined Bangarra was to ensure there was an Indigenous dance company of this calibre and that it would prosper. I joined, along with other high-profile dancers, to make sure this company would survive.
"I feel proud of where the company is going and how it has grown over the years. It is fantastic to see all that hard work come to fruition."
Sidney says while there are more opportunities for young dancers now compared to when he started out, his advice is still the same – to work hard.
"I have been pretty lucky. I had already achieved a lot before I got to Bangarra performance-wise. I was an assistant artistic director of the Aboriginal Islander Dance Theatre, which is a huge company where I learnt a lot.
"Then in joining Bangarra, I decided to take a back seat to all of that and just dance, and I did that for a number of years before Stephen asked me to be a rehearsal director – I did that for Boomerang and Fire – but I still hadn't finished dancing at that point.
"My advice to young dancers is that it is not easy so don't take it lightly. If you don't put the time and effort into it you are going to get nothing out of it."
While dancing has consumed him for the past 25 years, when he is not dancing Sidney likes to spend time with his family.
"I don't get to see them much, so when I get time I go back home or down south and spend time with them all. I also like travelling by myself once a year somewhere."
Looking to the future, Sidney is working as a performer on the Wesley Enoch production for this year's Sydney Festival – I Am Eora.
Beyond that he says he will apply for a grant to do his own work.
"The first step is getting the grant and then working out what I want to do. I have plenty of ideas that I am keeping to myself."