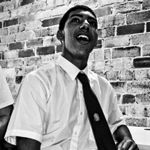 Leaping New York's skyscrapers in a single bound is on the books for another Page
His Australian-US parents have scaled the heights of the international dance scene but his creative instincts are seeking out a career in film. Hunter Page-Lochard approaches manhood with many worlds at his feet.
You might expect that the son of Bangarra Dance Theatre's Stephen Page and New York City Ballet's Cynthia Lochard would be destined for a life on the stage.
Indeed, Hunter Page-Lochard made his theatrical debut in Bangarra's Praying Mantis Dreaming when he was only six months old.
Not yet 16, Hunter's eyes are already focused on other creative horizons. A big fan of Marvel comics, he loves writing, has a keen visual sense and drawing talent, and knows he wants to write and direct films.
"I've pretty much had the same ambition for the past 10 years," he says. "I've already written a superhero film. I've been writing it since I was, like, seven years old."
Born on 4 July (American Independence Day) in the International Year of Indigenous Peoples (1993), Hunter's dual citizenship and creative fire are his passports to the world. When he completes his HSC in two years time, he plans to study filmmaking in New York.
Dad is calmly proud and supportive of Hunter's decision. When Stephen says his own future directions could be in New York, taking up residencies he has been offered, Hunter in turn nods in total agreement.
Although physically different, this father and son are more like brothers. Seated side-by-side they take turns jumping in to finish one another's sentences and the body language of one is the physical exclamation to what the other is saying. Their conversation shifts gears rapidly, zooming back-and-forth through time, a brash interplay of verbal acrobatics performed without a net.
"We always tried to introduce him to other things but he always kept falling back into the arts," says Stephen. "He's one of the Page boys. I told him if that's your fate then go with it and use it, don't ignore it."
It helps that Hunter has all the self-assured confidence and maturity beyond his years of someone who has grown up on the stage, in front of the camera and around performers.
He has worked with his father before, cast in Bangarra's kinship themed work Skin for the 2000 Sydney Cultural Olympiad, alongside guest performers Archie Roach and Wayne Blair. He appeared on television in Water Rats when he was only six-years-old and the SBS series EastWest 101.
He also played the lead role in Wayne Blair's hilarious short film Djarn Djarns, a partially autobiographical story of a group of Indigenous boys who dance for tourists.
If Stephen and Hunter are particularly buzzing at the moment, perhaps it's because they've just worked together again on Bran Nue Dae with director Rachel Perkins. Stephen choreographed scenes in which Hunter appears as a school friend of the lead character, alongside 60 Noongar boys aged between 13 and 17.
"I was brought up with dancing, not just at Bangarra but at home, at Christmas and birthday parties," Hunter says. "But I can't choreograph; I'm not smart like him."
Hunter has particularly fond memories of the dance company's creative consultant Djakapurra Munyarryan from north-east Arnhem Land. "I was always following him around and trying to mimic him," he says.
He's already been to New York, where his grandmother lives, four times, but is equally as enthusiastic about the time he and his father visited Djakapuura and his clan.
"I really wanted to go hunting, it's in my name, but it is only for the older men," he says.
"Well maybe you could come in July, you'll be old enough then," his father says, referring to Hunter's 16th birthday.
Hunter smiles in agreement. It's another stage to conquer, another experience to write about and the skyscrapers of New York will have to wait for this Hunter to fly over them again.