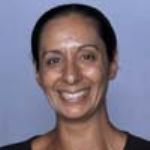 Born in Murwillumbah, northern NSW, Jasmine is a descendant of the Gubbi Gubbi people in south-east Queensland. In her final year of studies at NAISDA College, 1988, she performed with the Aboriginal and Islander Dance Theatre in Melbourne, Germany and Finland. She also undertook a three-month secondment with the Melbourne company Danceworks, under the direction of Nanette Hassall.
Jasmine joined Bangarra Dance Theatre when it was established in 1989 and toured with it for two years. In 1991-92, she was course coordinator at NAISDA College before joining the Aboriginal and Islander Dance Theatre as a company member (1993-95) and then as a guest artist.
In 1996-97, she was based in Alice Springs, teaching in schools and remote communities. She choreographed two pieces for CAAMA's TV music series Corroboree Rock, and a primary school production which she also choreographed, co-directed at the Araluen Arts Centre. Returning to Sydney, she took up a position with AIDT, choreographing a piece for the 1998 Indigenous dance conference in Adelaide and dancing in the AIDT collaboration with the Sydney Symphony Orchestra in the Sydney Opera House Concert Hall for the Festival of the Dreaming, as well as the Awakening ceremony.
In 1998, she rejoined Bangarra as a performer and cultural coordinator for DanceClan, becoming rehearsal director in 1999. In 2000 she choreographed and performed at Uluru for ABC TV's Today 2000 on January 1. Later that year she was appointed assistant artistic director of Bangarra.
Jasmine also assisted Stephen with the opening ceremony of the Olympic Arts Festival Tubowgule and Bangarra's production of Skin.