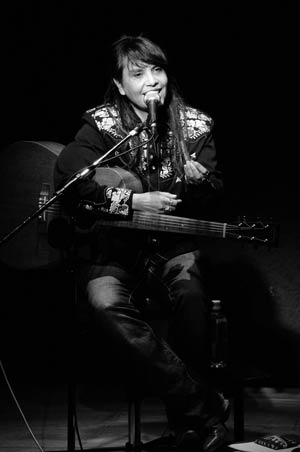 Acclaimed singer/songwriter Shellie Morris and the Yanyuwa Singers will provide a spectacular cultural opening to this year's Deadly Awards.
The group will be performing two songs in language from Shellie's new album, Together We Are Strong – or Ngambala wiji Li-Wunungu in Yanyuwa language.
"The Yanyuwa Singers have been singing traditional songs since they were born," Shellie says.
"They are traditional songs that have been passed down from generation to generation in Borroloola (NT), through women being strong and holding onto their culture."
The performance will encompass three singers and three dancers. The Yanyuwa Singers are all elders.
"They are the boss for those songs," Shellie says.
A member of the iconic Black Arm Band, Shellie was raised in Sydney, but in the 1990s, she moved to Darwin to find her Aboriginal family.
After releasing her debut album, Shellie Morris, in 2000, Shellie toured with Yothu Yindi, and won back-to-back female artist of the year awards at the NT Music awards in 2004 and 2005.
She also received a Deadlys nomination for her 2007 album Waiting Road, and apart from her soulful, folk-styled songs and guitar playing, she is also well known for her community work, travelling to and performing in Aboriginal communities around the country, and as an ambassador for the Fred Hollows Foundation.
"This will be my first time at the Deadlys, but speaking from an NT perspective they are viewed as a huge honour to all NT Indigenous artists, and we are all very excited when anyone from the NT is nominated or achieves an award. It is an exciting process," she says.
"It is a great honour to be at the Opera House, which is iconic for Australia. Even to be nominated is a huge honour and achievement for any of us."
After Shellie decided to record her latest album in Yanyuwa language, she made the journey back to Borroloola to learn the language.
"This was a very emotional journey because I was adopted. The album is dedicated to my grandmother who was stolen generation from there.
"It was very exciting for me to learn a little bit more about who I am through those songs, the journeys and the understanding of what the songs are about.
"It was a crash course in language through the support of family in Borroloola. I think it was also something very new for them – mixing the traditional and contemporary. This was a completely new process because those songs stand alone, so I had to weave something around it that was respectful. There were lots of tears of happiness and joy and sadness for my grandmother who passed away and was not able to hear that."
Shellie says the subjects covered on the album include women travelling, hunting, the Saltwater People, turtles and a traditional lullaby mixed with a new lullaby that she wrote.
"There is also a beautiful song in another language from the region about being strong in your culture," she says.
Later this year, Shellie is set to perform at a big gig called Notes From the Hard Road and Beyond at the Myer Music Bowl in October, in a line-up that also features Joss Stone, Mavis Staples and Ricky Lee Jones.
Shellie also recently appeared in a documentary with the singer Gilberto Gil – the most famous musician in Brazil – and she will soon be touring with him to Switzerland, South Africa and Brazil. They will also be working with the Soweto Choir.
"These are huge concerts. Massive crowds of up to 200,000 people, but you put a team around you and we encourage each other. I try to be the best I can be in whatever I do."
Performing to huge crowds all over the world is nothing daunting for Shellie, but she also enjoys returning to small communities and performing as well. At the moment, she is conducting remote community music workshops with children.
"I am very thankful for opportunities that come my way, but I am still a grassroots girl from the territories and I spend a lot of time doing that. I am proud to travel overseas, but I am just as proud to work in the remote communities in WA and the Northern Territory.