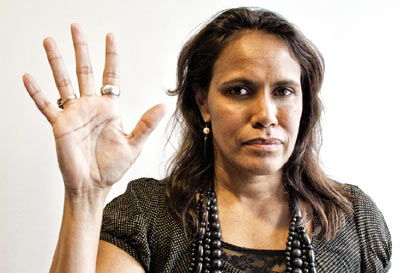 Bob Hawke, Cathy Freeman, Peter Overton, Faulstina "Fuzzy" Agolley, Deborah Thomas and Mario Fenech have all been speaking out about Indigenous literacy – in language.
A new commercial from the Australian Literacy and Numeracy Foundation (ALNF) has been launched featuring the Warumungu language from the Tennant Creek region in the Northern Territory. The only words spoken in English are the name of the Foundation and the website address which had no obvious translation. Shot in Sydney, Melbourne and Tenant Creek the ad also features elders and other Indigenous community members from the region.
The ad is part of a campaign to launch an online 'Wall of Hands' to help ensure kids in remote communities get the literacy and numeracy support they deserve. Cathy Freeman says she is glad to see so many prominent Australians getting on board to support the ALNF, whose aim is to ensure our kids have a strong future.
"I encourage all Australians to support the fine work of the Australian Literacy & Numeracy Foundation by giving to the Wall of Hands Appeal. This is one organisation that truly empowers individuals and communities the country over, and I'm proud to be associated with this kind of success," says Cathy.
Faulstina "Fuzzy" Agolley, who has personally contributed $10 000 to the Indigenous Literacy Appeal, laid down the challenge to corporate Australia to match her donation.
"One of the reasons my family moved to Australia was for the opportunity of a better education. I approached ALNF to become an Ambassador because I believe that reading and writing are fundamental to a successful life in today's world. Knowledge is empowering. The ability to read is empowering. ALNF's literacy programs work at the core of what is important for people to get ahead in life," says Faulstina.
Gabrielle Kennedy from ALNF, says she is hoping donations such as those by Faulstina, along with the advertisement will encourage all Australians to do their bit to ensure literacy is as supported in remote regions as it is in the cities.
"The Wall of Hands concept started with the idea to unite all Australians – despite distance – on the issue of Indigenous literacy in remote communities," says Gabrielle. "ALNF wanted to give people the opportunity to put their hand up and say 'I care' and to give people an opportunity to make a difference on the critical issue of Indigenous illiteracy. We have been absolutely overwhelmed by the response. In particular, many of our supporters are sharing with us the sentiment that finally, they feel like they have been given the opportunity to take part in a campaign that will actually make a difference."
The response has been so big to date that the ALNF have already beaten their original goal of raising $150,000.
"We have people from all walks of life donating to the Appeal, from individuals and organisations to schools and community groups. We have been inspired by how the schools groups in particular have been so passionate about asking their communities to get behind them. Some of the pictures that have been uploaded are absolutely amazing and clearly demonstrate just how enthusiastic Australians have been in supporting the ALNF."
Money raised from the appeal was originally targeted towards the ALNF's 2011 community mentoring program in Tennant Creek, NT. However now that they have surpassed their target, the foundation can also contribute funds towards their many other important programs.
"ALNF runs not just one, but many different literacy programs. ALNF teaches marginalised Australians how to read and write. We also help to develop the skills of teachers, carers, healthcare workers, community workers and volunteers to pass on good literacy practices in their families and communities.
We work with preschoolers through to adults, primarily in rural and remote communities, from Kempsey to Groote Eylandt, Palm Island, Elcho Island and Tennant Creek," says Gabrielle.
For more information visit www.wallofhands.com.au or www.alnf.org.