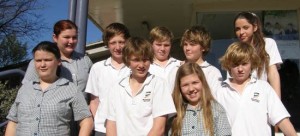 We are the students from the Year 7 Healesville High School Woiwurrung Ngulu (language) program.
We are part of history in the making because we're the first students to learn an Aboriginal ngulu as a Language Other than English (LOTE) at a high school in Victoria.
Bambu (Aunty) Joy Wandin-Murphy and Bambu Doreen Garvey-Wandin are the Aboriginal Elders who inspire us. They created and planned the program so that it would be an enjoyable and interesting learning time for us. Aunty Jeannette Kavanagh also works with us because she wants to learn Woiwurrung and she's interested in language reclamation.
The program is funded by the Wannik Unit within the Department of Education and Early Childhood Development. We come from diverse backgrounds, including Aboriginal Irish, Polish, Spanish, Indian, New Zealander and Scottish. We learn and work as a team.
When we tried to think about what we enjoyed most about the class, it was hard because we liked all of it. We've been taught about the history and culture of the Wurrundjeri people, who were in this part of Victoria tens of thousands of years before Captain Cook arrived. We've learned the names of all our relatives in Woiwurrung. We're learning about the Aboriginal seasons, which are different from ours. When we were learning about colours, we made up our own words for colours that didn't have a word in Woiwurrung. Then as a group, we voted on the word we liked best.
One of the first things we learned was a song when we were learning the Woiwurrung words for parts of the body. We sing that song – head, shoulders, knees and toes, gawarn, bagaroo, baring, barang djinang – before most of our classes.
One of the students from our class, Jack, was adamant the title of our article should be 'The One and Only: Making History' because that's how he feels about our group.
Cougar said that he enjoyed the program because  "it's fun and we learn how hard things were and all the new words".
Wade is fairly new to the program and says, "I like all the things we learn. It's interesting and fun. We get to learn about Aboriginal history and culture and food, as well as the language. It's all good."
Chenille said, "We learn a lot of things. It's even more fantastic because I am learning from my family – Aunty Joy, who is my grandma, and Aunty Doreen and Aunty Jeannette. It's even more exciting that we're going to take this language to a different level and bring it back to life.'"