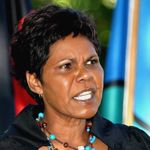 Moves to effectively scrap bilingual education in the state will begin within six months according to a Northern Territory schools official.
Widespread opposition forced the NT government to back down on the controversial policy late last year.
Former Education Minister Marion Scrymgour however gave the policy the green light last month and announced a years "transition period" before it became mandatory for the NT's seven remaining bilingual schools to teach the first four hours of every day in English.
On Thursday, the executive director of northern NT schools, Alan Green, revealed the policy was all but rolled out and that regionally based teams were visiting the schools "to check out progress and lend assistance".
Meanwhile, NT Education Union president Rod Smith on Tuesday blamed the partial Indigenous languages ban for a drop in attendance so far this school year.
Mr Green however pointed to figures released by the NT Education Department which show all but one of the seven remaining bilingual schools had actually seen an increase in students.
Overall, attendance dropped by more than two percent in remote areas outside Alice Springs and Katherine compared with 2008.
The Country Liberals previously attempted to end bilingual education a decade ago but the move was abandoned following a strong public backlash.
The policy forms part of the government's response to appalling results for Indigenous students in the national basic skills tests for Years 3, 5, and 7.
More than 60 percent failed the reading benchmark and more than 70 percent failed the writing benchmark.