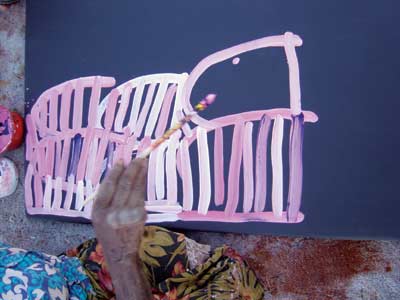 These days Aboriginal and Torres Strait Islander art is a mainstay of major private collections, art galleries and museums around the world. Paintings that, years ago, may have been sold for as little as $500 can now sometimes fetch hundreds of thousands of dollars because the artist has become established over time. Until recently however, that artist would have received nothing from the re-sale of their art work. But now a new royalty program means that artists get paid each and every time their painting goes back under the hammer.
Fred Torres was one of the gallery owners to lead the push for this royalty program. As one of the few Aboriginal owners of an Aboriginal art gallery, he is at the forefront of making sure our artists get paid properly now and in the future.
When Fred first set up Dacou Art Galleries in 1993, Aboriginal art galleries were few and far between. Unfortunately little has changed since then, although Dacou, which is short for Dreaming Art Centre Of Utopia, has become firmly entrenched in the art world and is recognised as the leading supplier of quality Utopian art.
"There aren't very many Aboriginal galleries which is a sad situation," says Fred. "If Aboriginal and Torres Strait Islander people own their own galleries, particularly if they are selling art from their own areas, they can better explain what the stories mean and pass that information and culture on directly, rather than second hand, and ensure the stories are told correctly."
Fred, who was taken from his home community in Utopia at age nine as a result of the stolen generation policies, says that the area is of great artistic importance. Dacou regularly sets up workshops in Utopia (270kms north- east of Alice Springs) and Alice Springs. The objective of these workshops is not only to collect quality pieces of art, but to spend time with the artists who are also members of his family and include Barbara Weir (Fred's mother) and Gloria and Anna Petyarre (Fred's aunties).
Thanks to the lobbying that was done by Fred and his family among others, artists now will not only be paid when they first sell their paintings, but as their popularity increases and the price of their art work goes up, they can also now receive royalty money if and when the painting is re-sold.
"Mum, myself and Gloria all went to Canberra to fight for the royalties, unfortunately it hasn't come out the way we would have preferred and there are a lot of complication in how they get those royalties which will take a couple of years to iron out, but it's still a good thing," says Fred.
"A lot of the work, as you know, over time can increase in value quite considerably even up to 1000 per cent. Initially the artists are getting very little of even what the retail price is, so the retail royalty means the percentage that comes back to those artists is more than likely more than what they were paid when the painting initially sold, especially if now they are a famous artist. I think in reality by the time they get the royalty's it's probably about three per cent of the sale, which is a start."
The royalty program is a continuation of the work Fred set out to do when he first started the Dacou gallery.
"I set up Dacou because I just thought it was the right thing to do and because I'd seen a lot of my relatives selling works to galleries but not really being aware of who was buying them or what they were selling for. The thing we did as a gallery that was different to other galleries was to travel the artists with their exhibitions – that was something nobody was doing at the time.
For the first time, customers were getting to meet the artists and the artists were getting to come to the city from the desert and see their work up on the walls in an exhibition.
"I definitely think meeting the artist helps the sale of the artwork because the customer gets the opportunity to ask questions about what the dreaming and the skin names mean, and they are confident they are getting the correct information because they are asking the artist directly. I also wanted the artists to know what the works were being sold for in the cities and to educate them about getting a better price for their works, so they would be paid fairly."
The tours have definitely paid off as Dacou now has the record for the highest price paid for any female artist in Australia.
"We're constantly promoting and expanding and by doing that the artists become well known and collected and so the prices go up in value. In the last 20 years we've managed to place our artist's work into state galleries, museums and major collections. We also have a few world records for sales of artwork through Dacou. We hold the record for the most expensive painting sold by an Australian female artist (white or black) for Emily Kngwarreye, who's painting Earth's Creation sold for over a million dollars. We don't know how long that record will take to break but we hope to break it again with one of our artists.
"We also hold the auction records for most of the artists we represent – meaning we've sold their art for the highest price paid to the artist. I think we get higher prices because people are very confident about where the art comes from and that the artist is being looked after. They also know that it comes from a reputable source – you can't do any better than buying direct."
For the first time since starting out in 1993, Dacou is now representing not only Utopian artists but other Aboriginal artists, after opening a new gallery in Alstonville in Northern NSW in December 2009. The gallery, Quotidian & Quixotic, is not only bringing Utopian art to regional NSW but is also holding exhibitions by local Bundjalung artists.
"This gallery here was the first gallery where Dacou supported artists outside of their family," says Justine Barratt, manager of the gallery and mother of Fred's youngest daughter Mia Torres.
"For the first six months that we were open, we promoted Utopian works to this little tiny town where I grew up. I'd been away for 17 years, so it was my opportunity to introduce this art that I really value. The title for the gallery, Quotidian & Quixotic, means everyday occurrences – Quotidian which reflects the day to day work done by the women of Utopia, and Quixotic means visionary, unpractical but Utopian. So for me, this gives gallery me a daily practice and a chance to talk about what this work is about. We are now also not only promoting Utopian art but we are also supporting local Bundjalung artists such as the emerging artist Michael Phelp."
For more information on Dacou's work and the artists they support visit www.dacou.com.au