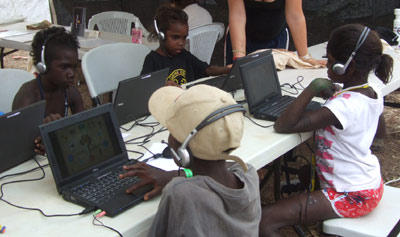 In 2005 Gadj and Jodie Maymuru started out with a passionate idea to help their kids learn about their Aboriginal culture. Like all really good ideas it's taken root, growing into Sharing Culture Online – a learning and teaching system for schools, individuals and communities that is helping not only to deepen knowledge and understanding of Aboriginal culture, but to celebrate it too.
Gadj, a Yolngu man born in Yirrkala, North East Arnhem land, and partner Jodie of Maori heritage, developed Sharing Culture Online after a move from Far North Queensland where the majority of staff and students were Indigenous, to the Sunshine Coast where culturally-based learning resources were scarce and outdated.
"My daughter was in Year 2 and was interested in learning about her culture. She was right into books and brought the only book in the library home on Aboriginal culture which was tatty and old. I have a Diploma in Multi Media, my husband is from Arnhem Land and kids love technology. We thought that by using technology, we could keep the culture going and our kids could learn about their culture, and celebrate it," Jodie says.
"It grew from that – our passion for our kids to learn about their culture and also our experiences of racism too. We wanted to make it different, so that all kids of all backgrounds can see the beauty of culture."
The need for Sharing Culture Online was definitely not confined to the Maymuru family and, as a result, it is being used across Australia in Aboriginal communities. The original Yolngu version was adapted in August 2010 so that communities can input their own language and culture. Gadj and Jodie are also now working with the Cherokee's in America on a specially adapted version of Sharing Culture Online.
"There is also interest from Canada's Indigenous peoples and we had an enquiry from Mexico the other day," she says.
Sharing Culture Online is a teaching and learning system that gives students of all backgrounds the opportunity to learn about, and engage in, Aboriginal cultures. It's designed to support educational needs and offers tools including digital talking books, an interactive talking dictionary, a website of facts and digital jigsaw puzzles. It helps develop literacy and numeracy skills and it can record and store local languages, as well as engaging with languages from across the country.
The resource is not just for primary school children, but is used by health centres, in adult literacy classes and in prisons. Importantly, it's a resource that helps teachers teach.
"At conferences where we present Sharing Culture Online, teachers were saying they were unsure about what to teach Aboriginal and Torres Strait Islander children and this gives them a system they can use," Jodie says. "It also gives communities a control of the content too."
Gadj and Jodie have had good support from schools and from those that use the system. "It does bring the community together. One young woman has gone from not being able to speak her language to speaking it, and she can pass that knowledge on and teach it."
Developing and marketing Sharing Culture Online has been a pioneering journey for the Maymuru's as there were no other similar models to base the system on. "It's been worthwhile but it's also been challenging too, but it is unique and really does provide an Indigenous perspective on education."
To find out more about Sharing Culture Online go to www.sharingculture.com.au