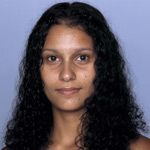 Deadly Vibe Issue 86 April, 2004
FRIDAY, 2PM: At Walsh Bay, there are construction workers everywhere. This piece of old-time Sydney, with its old wharves jutting out into the harbour, is undergoing a major facelift. They're turning history into glitzy office and apartments – the yuppies are about to move in.
Go past the men in trucks, and you come to Pier 4/5. This is the home of Bangarra Dance Theatre, although it's not the easiest place to find. But if anyone keeps wandering down the side of the pier, past a café filled with beautiful people and theatres that house the Sydney Theatre Company, they'll come to a grey-painted door that opens to reveal the dancers we know and love so well.
Rheannan Port is in the green room, working her way through a plate of shepherd's pie. The dancers have just broken for lunch, and they're starving after having been put through their paces all morning. In 45 minutes' time, they'll go through it all again, so this is the chance to refuel their bodies.
This room belongs to the dancers. It's where they come to relax and mingle with each other. The room is fitted out with sofas, magazines, a computer where they can check emails, a phone, a noticeboard and personal pigeonholes, where the dancers find their schedules for each week.
The green room is tucked in behind one of the two rehearsal rooms, and in no time at all everyone has regrouped for the afternoon's work. They are dressed in dark, comfortable gear – old T-shirts, bra tops, socks with holes, lycra cycling shorts, tracky daks. Half the dancers have knee guards on. No one seems to care too much about what they're wearing – as long as it lets them move how they want and doesn't get in the way.
On the afternoon's agenda is a rehearsal of White – a sexy segment choreographed by Stephen Page some time back, that's being resurrected as part of Clan, a double bill that's about to tour the country. The first half of the bill is a tribute to Stephen's past called Reflections; the second half is Unaipon, a new work by assistant choreographer Frances Rings.
For the next couple of hours the dancers will work on a series of moves that will last about two minutes once they're up on stage. They pair off, and Rheannan works with fellow dancer Tim Bishop. Rehearsal director Cathy Goss counts out the beat: "A one, two, three, four … and five, six, seven, eight." It's hard work putting those moves together, complete with the right timing, the just-so inflections of hand and head and feet, all the while communicating an intense bond between the guy and girl partners. The duets are stunningly sensual, so each dancer has to connect with his or her partner in a big way.
Every now and then, the big-hearted cackle of dancer Elma Kris rolls through the air. She's got the sort of laugh that makes everyone else laugh, too. When something goes wrong with one move, she yells out good-naturedly: "What's wrong with you guys? Can't you pick up a lady?"
Before the afternoon is over, each woman has been lifted into the air a dozen times. The guys make it look easy, but it doesn't take long before sweat is dripping down their bodies.
Finally, at 5.30pm, Cathy and Frances call a halt to the day – the dancers start massaging the back of each other's neck as they wind down for the weekend.
Rheannan makes her escape to the green room so she can chat about her life as a professional dancer. She drapes her long, slender legs over the sofa and tells Deadly Vibe about how she decided at 17 that she'd become a dancer.
"I was in my final year of high school when Bangarra happened to go to Cairns to perform Ochres," says Rheannan, who was going to boarding school on the Atherton Tablelands at the time. A descendant of the Lama Lama tribe, Rheannan grew up on the east coast of Cape York, in a community called Coen. "I saw them and I was like, "˜Yeah, that's what I want to do."
She auditioned in 1996 to study at NAISDA, and spent five years at the dance college. She also took a year off to go back home and reconnect with her community.
When she was in her final year at NAISDA, she did a six-week secondment with Bangarra Dance Theatre and ended up being offered a spot on the company's regional tour of NSW.
"I was really excited," says Rheannan. "I was happy there was going to be stability and that I didn't have to think about what to do."
It isn't all glamour, gorgeousness and opening nights, however. The difficult part of being a dancer is "adapting to the choreography, the discipline, and having the stamina", Rheannan says.
Besides rehearsals, the dancers also take two ballet classes, two modern dance classes and a yoga class each week. Rheannan says that by the end of her day at work, "I just like to go home and watch telly".
"I'm a big couch potato," she says, laughing. "By night-time, the only thing that works is my thumb!"
FACT FILE:
Name: Rheannan Port
Age: 25 this month
Height: 163cm
Grew up: Coen, a town of 300 people on Cape York Peninsula.
Was first inspired to dance: at 17, when she saw Bangarra's production of Ochres in Cairns
Diet: avoids junk food, eats lots of meat and vegetables, and takes extra vitamins and minerals.
Exercise outside of work: one Pilates class a week
Likes to: watch TV.
Dislikes: dancing at parties.
Recently: got blue braces on her teeth.
Believes: you should never lose focus on what it is you want to do.
(Story 1/4/2004 end.) photographer: Greg Barrett