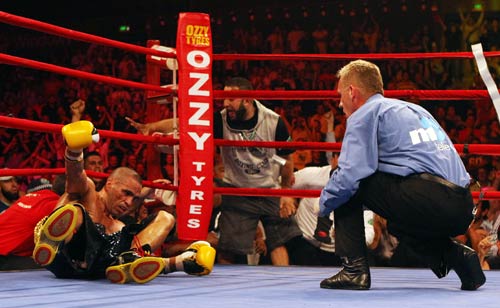 Anthony Mundine's plans of fighting the biggest names in the middleweight division are in disarray after the triple world champion was knocked out by Garth Wood in the fifth round of their bout in Sydney last night
Wood, who secured the fight with Mundine after winning 2009's reality boxing program The Contender, entered the fight as a huge underdog, and now owns the rights to one of the biggest upset victories in Australian boxing history.
The fight was scrappy from the outset with constant grappling, and very few clean punches landed. Mundine began the bout trying to keep a comfortable distance from Wood, who's tactics were clearly to pressure Mundine as much as possible. A frustrated Mundiune complained to the referee about the wrestling and blows to the back of the head throughout the fight.
58 seconds in the fifth round, Mundine was felled by a left rip to his left temple as he crouched against the ropes and was unable to recover before the 10 second count.
An ecstatic Wood later paid tribute to Mundine for honoring his promise to proceed with the bout – despite having absolutely nothing to gain from it.
"If it wasn't for him, I never would have got the knock on the door, I never would have got the chance," Wood said. "I am the best kept secret but you're all aware of it now. It was hard to get hold of Anthony – he was aware of my talent. When I saw the chance for the left hook, I landed it."
Mundine meanwhile was left pondering his next move after only his second knockout defeat in 44 fights.
"I got caught but it is about how you bounce back. He is tough and all credit to him," he said. "We've got to go back to the drawing board and go from there. Congratulations to Garth, good luck to him."