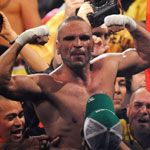 An early knockdown and a strong final two round has won Anthony Mundine the third world title of his professorial boxing career by the narrowest of margins.
Fighting at the Brisbane Entertainment Centre last night, Indigenous boxers Daniel Geale and Mundine engaged in one of the classic all-Australian fights, brawling their way through 12 engrossing rounds in which both fighters showed true world class qualities and were near impossible to separate on points at the final bell.
Geale, who entered the fight with his IBO world title on the line, charged out of the gates and dominated the opening exchanges, using a barrage of combinations and constant punching to unsettle Mundine early.
Fighting with aggression and a great deal of confidence, all pre-fight predictions that Geale would be one of Mundine's toughest opponents were crystallising fast.
Geale's hard work in the first was quickly brought undone when he was dropped in the opening seconds of the second round.
Mundine fainted several times with his right hand before landing ashort left hook that sent Geale to canvas.
While the punch seemed to have little weight behind it and saw Geale jump immediately back to his feet, the knockdown would prove pivotal later when the fight went to the score cards.
Geale maintained his blistering pace over the next eight rounds, with Mundine showing a willingness to stand at close quarters and trade punches.
While throwing less punches, Mundine was content to pick his shots. Countering well, he began to land the cleaner blows as Geale continued to swarm, using clever angles to frustrate his opponent and turn the bout into a real battle of attrition.
When one fighter seemed to be gaining some momentum, the other would rally with a combination or clever counter to swing the balance back in the other direction.
By the tenth round a cut had opened up in the corner of Mundines eye but it appeared the former supper middleweight champ would be the stronger of the two fighters going into the championship rounds.
Ignoring calls from his corner to seek a knockout, Mundine's experience and poise under pressure in rounds 11 and 12 would prove priceless.
Geale courageously continued throwing everything he had at Mundine but failed to land a telling blow to really stamp either round as his own.
The final scoring was a split decision, one judge awarding the fight to Mundine 116-113, another giving it to Geale115-113, and third declaring in favor of Mundine114-113 – making him a three time world champ and dual title holder in different weight divisions.
"That was a tough fight, that was up there with the world class fights – the fights against Mikkel Kessler and Sven Ottke. That was world-class pace," Mundine said from the ring after the bout.
"I'm going worldwide now. I want Kelly Pavlik, I want Felix Sturm but I think Daniel gave me harder fight than they will. He threw so many punches but I knew that he was going to keep going and that's why I prepared for 12 hard rounds.
"My punches were more effective and I hurt him a lot more than he hurt me. I came home in the championship rounds stronger but Daniel will grow from that and he will bounce back, he will be world champion but not while I am around."
Geale said he would learn from the loss and return an improved fighter.
"I was a little confident but that flash knockdown worried me. After that, the judges start looking at the other guy a little bit. What do you do? I can't complain about things," Geale said.
"It probably surprised me a little bit that he wanted to go toe to toe. But I was happy with that. There are better fighters than Anthony Mundine around the world so I have to go back to the gym, try even harder and come back better."