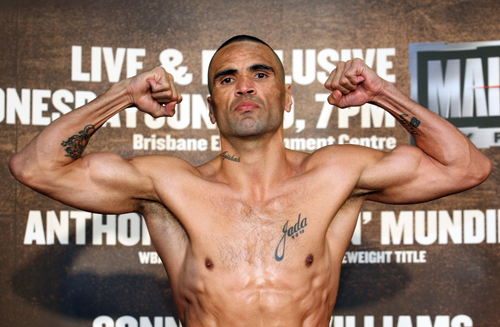 There's no denying Anthony Mundine has achieved a lot in his 10-year boxing career, not to mention putting the sport back in the spotlight.
A decade on from his boxing debut, Anthony Mundine has already exceeded the expectations of most doubters who said he'd never make it as a fighter. Now 35, 'the man' says the best is yet to come.
Anthony Mundine has never been shy of shooting for the stars.
From the moment he announced his intentions to step into the ring, he made it clear to anyone who'd listen that he would not only become a world champion, but that he'd also write his name into boxing history.
Three years later, on 3 December 2003, he clinched the WBA Super Middleweight title in a points victory over the accomplished and favoured American, Antwun Echols.
Really, Anthony had done enough right there to retire with his head held high. A professional footballer only three years ago, he was now a world boxing champion. If Jeff Fenech loved us all … Choc Mundine told us all he had achieved the highest honour in the sport of boxing, and most of us expected a return to football would soon follow. After all, what was left to prove? Instead, Anthony boxed on. Greatness still beckoned.
Today, that magic December night at the Sydney Entertainment Centre feels like an eternity ago.
Since then, Anthony's won two more world titles, fought and won the biggest local derby in the country's boxing history, and generated more headlines than Phar Lap, Bradman and Ben Cousins combined, but through it all, his detractors have levelled one constant criticism at the undisputed king of Australian boxing: that he is yet to truly prove himself on the international stage.
As Anthony now reaches the 10-year milestone of his boxing career, looks back and takes stock of his achievements, certainly there is an enormous amount to be proud of. There's no doubt he'll go down as one of the best we've ever produced, but deep down you can be sure that he knows better than anyone those lofty heights he set for himself at the beginning of his career are yet to be met, and at age 35, the window of opportunity is quickly passing him by.
Now in the home stretch of a fascinating career, Anthony has unfinished business, and despite his age he's looking to take on the world's best – he's ready to make history, and plans to do so by becoming the first boxer to win world titles in three descending weight divisions.
"I want to become the first man in boxing history to drop three divisions and win world titles," he proclaimed in the lead-up to his points decision win over Carlos Jerez in Brisbane last month, the fight which marked his 10th year in professional boxing.
"I mean dozens have been champions in multiple divisions rising in weight, but no one has done it going down in three divisions. That is something for the record books and that is what is pushing me and motivating me."
As he points out, winning titles in multiple divisions, while being the mark of a truly great fighter, is nothing new. In the 1980s, legendary middleweight Tommy Hearns was the first boxer to win five world titles in five divisions, and more recently, Manny Pacquiao clinched an unprecedented seventh world title in seven different weight classes.
The common denominator between these and other multiple division champions is that they all won the majority of their titles moving up in weight, rather than down, and for a good reason.
Boxing is as much a battle against weight as it is against an opponent. Being heavier than your opponent is a decided advantage in the ring, which means boxers shoot for an optimum fighting weight and division, a constant balancing act between fighting at the most advantageous weight without sacrificing punching power, endurance and fitness at the same time.
As a fighter ages, making the weight becomes increasingly difficult and takes a greater toll on the body, meaning boxers generally move up in weight divisions during the later stages of their careers.
Now, well into his thirties and aiming to win titles in descending order, Anthony is planning on doing the complete opposite, a bold move that few have tried and succeeded in.
So just how much weight does Anthony need to shed in his quest to fight at junior middleweight? Whereas he once played rugby league at 86kg, and won his first world title at 75kg, Anthony now must weigh in before each junior middleweight bout at no more than 69.5kg, a massive drop.
To shed the weight, and keep it off, he's taken on a rigorous training regimen. He believes the extra discipline towards training and dieting that he's had to adopt to make the lighter division has put him in the best physical condition of his career. Feeling refreshed, he now believes his best years are still ahead of him.
"I haven't been this weight since I was 17," said Anthony.
"It's been tough. I've just been eating lots of protein – no carbs – and training really hard.
"Even though I have been boxing for 10 years. I feel like I am starting out. Coming down to Middleweight I wasn't even really dieting, and at Super Middleweight, I pretty much walk around near that weight. But I am so disciplined and strict now. And I have been sparring four guys for three rounds each.
"Boxing is a very hard sport and if you train as hard as I train you don't feel an age. Even though I have just turned 35, I don't feel any older than a 22 year old – except I might be a bit wiser."
While some boxing experts question his chances in the Junior Middleweight division, the man himself believes it's the one he should have been fighting in all along.
"To think that I was taking on the best in the world at that weight is ludicrous because my frame is nowhere near a Super Middleweight," he said. "But I really feel that the first five years I was in nappies, I was basically an amateur learning my craft because I didn't have a background in boxing.
"Since the Mikkel Kessler fight [in 2005], I've become a man. I was fighting one of the best in the world at the time and I would like to think that if I gave it another 2 per cent and did what I now know I can do I would have won that fight. I haven't been beat since and I don't intend to get beat anytime soon.
"But I really think that this is my division and if I get through this fight and perform strong like I know I am going to, I feel that I can own this division and really make a name for myself."
With Jerez accounted for, the door now opens for a shot at WBA Junior Welterweight title-holder Miguel Cotto, or interim champ Nobuhiro Ishida, and beyond that, a clash with Floyd Mayweather Junior shapes as the ultimate challenge.
History awaits, and regardless of whether he does go on from here to silence his critics once and for all or not, no one could deny that it was Anthony Mundine who singlehandedly put Australian boxing back on the front and back pages.
"I think every boxer in Australia owes him a huge thank you," says friend and former opponent Nader Hamdan.
"Boxing in this country was pretty much dead before Anthony came to the sport. He gave it mouth-to-mouth resuscitation and brought it back to life. He has put the sport on the back page of the papers, on pay-per-view and Fox Sports and brought people to the fights."
Johnny Lewis, regarded as Australian's greatest boxing trainer, was in Anthony's corner for his first pro fight, and reinforces the often-forgotten fact that Anthony went from being a fighter with hardly any amateur experience to a world champion in just three years – an achievement that deserves respect.
"When you talk about Anthony you have got to go past a lot of the bias against him and look at what he has achieved, and to do what he has done in such a short period of time is remarkable," says Lewis.
"He came from another sport with only two or three amateur fights as a kid and was beating blokes that should have taken him to school.
"For me, personally, there have been two fights – when he beat Antwun Echols to win the world title the first time and when he lost to Mikkel Kessler – that were defining moments for
Anthony. I would have liked to see him fight Pavlik and Hopkins because I think he would have been successful and I even think he could have potentially beaten Calzaghe."
It is those "could have been" fights that now hang as the only question marks over an unlikely, but remarkable career that has defied all the odds and the experts.
From the ridiculous number of people who packed in to watch his pro debut, to the amateur who travelled to Germany and nearly beat a seasoned champion on natural ability alone in just his 11the fight … from the glorious world title triumph over Echols, to the history-making showdown with Danny Green, and all the colorful headlines and controversies in between, it's been a 10-year spell in Australian boxing like none we've ever seen.
Just what the next chapter will hold, who could possibly guess? If there's one thing you can be sure of when it comes to Anthony Mundine, it's that you never know what's coming next, but you can bet we'll all be talking about it.