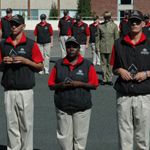 Twenty-seven young men and women recently travelled around the country in search of training to help them get a job. If that sounds like it's above and beyond the call of duty, then throw in some hard-core training at the Police Academy and the Department of Defence bases and you'll understand just how dedicated these young Indigenous go-getters are.
The men and women took part in the Indigenous Pre-recruitment Course, in February and March, as part of the Indigenous Youth Mobility Program (IYMP). The IYMP supports young Aboriginal and Torres Strait Islander people who need to travel away from home to get qualifications for the job they want.
The first five weeks of training was at Rokeby Police Academy near Hobart, a serious boot camp that demanded physical fitness, leadership skills, literacy and numeracy.
During their five-day leadership course, the young trainees practised goal setting, decision making and communication skills and developed their confidence and self-belief.
They then headed off around the country to Navy, Army and Air Force bases in Sydney, Nowra, Albury, Canberra and Wagga Wagga.
At the end of only eight weeks of training, a total of 16 of the participants qualified for positions in the Australian Defence Force, with seven of those chosen as officers. Another six participants were placed in full-time employment by non-profit organisation Campbell Page and a further six participants are undergoing pre-enlistment for the Australian Defence Force.
Aboriginal Australia has a proud tradition in the armed forces with diggers having served in both world wars. The new recruits were well aware of the heroes who have gone before them, which made graduation day a particularly proud occasion for the students and their families. A parade was held in their honour on the Rokeby Parade Ground and special congratulations went to students who received outstanding commitment awards during the course.
Skilling Up
The IYMP helps young Aboriginal and Torres Strait Islander people travel away from home to get the skills they need to get a job in their community or elsewhere.
Aboriginal and Torres Strait Islander people aged 16-24 from remote areas can relocate to an IYMP host location to do post-secondary education and training. Training options include Australian Apprenticeships, vocational education and training and higher education that lead to qualifications in nursing, teaching, business administration and accounting.
For more information on IYMP, email [email protected] or visit www.deewr.gov.au/iymp.
The Indigenous Employment Program is an Australian Government program that increases Indigenous Australians' employment outcomes and participation in economic activities. It is contributing to the Government's commitment to halving the gap between Indigenous and non-Indigenous employment outcomes within a decade.
For more information visit www.deewr.gov.au/indigenous or call 1802 102.