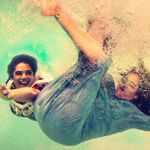 From theatre and live music to puppets … a new show by The Maza Sisters has it all.
As the daughters of Bob Maza, one of the founding fathers of Indigenous theatre and an acclaimed actor, director, writer, comedian and musician, Lisa Maza and Rachael Maza Long are proud to be following in their father's footsteps
The Maza sisters are also multi-faceted performers, having worked in the theatre, television and performance industries for many years.
Lisa was seven years old when she took on the role of Pumpkinhead in Bobby Merritt's play The Cake Man, which was directed by her father at the National Black Theatre in Redfern. Since then, Lisa has performed in many roles, including Jimmy Chi's Corrugation Road, on television in Kath & Kim, City Homicide, Blue Heelers and Stingers, to name a few.
Rachael, a noted director and actor with many credits, was a long-time presenter of ABC Television's Message Stick program and is currently the Artistic Director of the Ilbijerri Aboriginal and Torres Strait Islander Theatre Co-operative.
Like most siblings, they had their differences when they were growing up. Fortunately, that didn't last: "We fought until we were 12 years old – we actually drew a line down the middle of our room, as sisters do – but we have a shared history and memories," says Lisa. "We understand each other like no one else, and we'll always be best friends."
That friendship has definitely endured. Performing as The Maza Sisters and Nerkep, they have been writing songs, singing and performing together for a long time. Now the sisters have combined their talents to write Sisters of Gelam, in which they also perform.
In some ways, having performed together for so long made the writing process for this show even more challenging.
"The bar was set pretty high for us," says Lisa. "We really felt the pressure – people know who we are. We really had to work. We had to write songs. We came to lots of points in the process where we'd hit a wall, but we'd just go through them and break them down. We really have respect for writers and a real appreciation because it's far easier to sit back and criticise work than to actually write it. It's been awesome."
Ultimately, Lisa says, Sisters of Gelam is a story about reconciling culture and celebrating Australian heritage. The story follows two sisters as they go on a journey to discover their heritage after the death of their father, Gelam.
The trip takes them back home to their country on Murray Island in the Torres Strait. Woven into the plot are stories based on their own lives, their family, their black father and their white mother. Rachael says the story is a creative representation of their lives, inspired by real events.
"We wrote about our own life to start with, but it was boring because we agree on too many things – we realised we needed to create conflict," says Lisa. "The whole story of the trip, yes, Rachael and I did a trip that's true, but the order is all mixed up and we created more drama.
"Gabrielle, the character I'll be playing is more like a combination of me and Rachael. The younger sister, Zoe, is more like our younger siblings."
Together Lisa and Rachael have come up with an innovative theatre concept, featuring three actors, including Ben Graetz as Gelam, as well as a three-piece band and even puppetry.
"Our idea was to make it good theatre and a theatrical experience and something a bit different to what you've seen before," says Lisa. "I hope it's an amazing experience and that people get something from it and learn from it. I hope people don't get what they expect – I hope it's better than that."
Sisters of Gelam is on at Melbourne's Malthouse Theatre on 12-21 November. (Reduced ticket prices on Indigenous Community Night, 13 November.) For more details see www.ilbijerri.org.au/sistersofgelam.