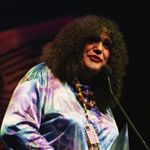 Deadly Vibe Issue 104, October 2005
A Deadly Dame
The Queen of the Kimberley makes her Deadlys debut.
Mary G was in full flight at this year's awards as she picked up her very first Deadly for Excellence in Film and Theatrical Score. She won the award with her band, The G Spot Band, for The Mary G Show which enjoyed a successful season at the Sydney Opera House Message Sticks Festival earlier this year.
Most of us all already know that Mary began as an improvised character on a late night radio program of her alter ego, Mark Bin Bakar, which was broadcast to listeners in remote Kimberley communities. But her outspoken wit, cackling laugh and florid dress sense soon turned this flamboyant lady into a national phenomenon
The Mary G Show was a cabaret extravaganza of songs, skits, jokes, social satire, film and interviews with Indigenous stars such as the Stiff Gins, James Henry, Vic Simms and Wire MC. and The G Spot Band.
On the night of the Deadlys, Mary's popularity with the Indigenous community was plain to see from the warm reception she received when she took to the stage to receive her award. Earlier in the night she had also had the crowd laughing when she took to the red carpet to meet some of the guests.
(story date October 1, 2005 end)
Ample in both personality and cleavage, Mary G is a one-woman willy-willy intent on bringing a little bit of Broome's Indigenous culture to the wider community. What started out as a cult jockey of indeterminate gender presenting a weekly show on Radio Goolarri in 1993 has ballooned (and we do mean ballooned) into a living Kimberley legend. And then some.
Thanks to NIRS, CAAMA and TSIBA, Mary G is now a national radio icon and can boast fans in communities from the Torres Strait to the Top End to Central Australia. Not forgetting a big fan in Canberra. Meeting Mary recently, Federal Opposition Leader Kim Beazley declared her "Queen of Australia", and said that if he were to follow Mary into the bush, as per her invitation, no Aboriginal tracker would ever have a hope of finding them. ("That's exactly right," agreed Mary.)
So who is Mary G? Although she's strongly rumoured to be connected to Radio Goolarri's artistic director, Mark Bin Bakar, the feisty phenomenon denies such links. "That four-eyed fool!" she laughs, before pointing out that the "˜G' doesn't stand for "˜Goolarri', but rather "˜Gedarrdyu' " a comment often directed at her as a young girl. "I'm just one of the people, a good Aussie Indigenous woman from the Kimberley with a few things on her mind. Whaddayou!"
Things like reminding Elders about their community responsibilities. And encouraging young people to look after themselves, be strong, and listen to those Elders. Put simply, Mary brings people together, which is why she has such a loyal following and why she was named Aboriginal Broadcaster of the Year at the Deadly Sounds National Aboriginal and Torres Strait Islander Music Awards in 1998.
"I like people and I like to make them feel good," she says. "There is so much oppression and poverty and misery out there in people's lives, I just want to be a little bit of sunshine on a rainy day." Hmm. We're not sure if Christine Anu would want you to put it like that. "Oh, I'd make Christine jump, whaddayou," assures Mary. "Don't you worry!"
Christine may well be jumping up and down "¦ to appear on The Mary G Show, a six-part variety/talk show, which be shown on SBS TV later this year. Recorded in Broome's Gimme Gimme Club, replete with corrugated-iron decor and a giant barramundi dangling over the live audience, the show is a winning combination of parody, politics, blackfulla culture and good old-fashioned innuendo.
Between magazine-style reports from the Broome area and live performances from musicians and dancers, Mary flirts shamelessly with guests (David Ngoombujarra, Chris Lewis, Pat Dodson) and audience alike, evoking unguarded moments aplenty. When former executive director of the Kimberley Land Council, Peter Yu, admitted to hankering after his host(ess), Mary G gaily remarked that he could have her Native Title any time he liked, before virtually smothering the little fulla with her well-made frame.
"Mary likes to give Indigenous people hope, something to laugh about," explains Mark Bin Bakar, after finally admitting to being Mary's co-producer. "But she's innocent and rather naïve when it comes to certain things. Often she doesn't realise the extent of what she's saying." (Of course, Mary denies this.)
Mark confirms that Mary G literally took over his weekly show on Radio Goolarri. "She just appeared in 1993 and started taking the micky out of me and the whole community. It just grew from there, really. Now every Wednesday night between 7 and 10pm, WA time, I just get some extra sleep."
He needs it. Apart from his duties at Goolarri Media Enterprises, Mark is a member of the Australia Council's Aboriginal and Torres Strait Islander Arts Fund (ATSIAF), and is the chairperson of the Kimberley Stolen Generations Committee. That's a lot of hats for one man, but Mark wouldn't have it any other way.
"My personal philosophy is that when you work for an Aboriginal organisation, you belong to the people," he says. "If you don't like that, go work in the mainstream. I'm a firm believer that when you work in this capacity, the organisation belongs to the community, so you have to be on call for that community. You can't turn people away."
As an ATSIAF member, Mark is particularly impressed with the range and quality of art emerging from Aboriginal communities. "There's so much good stuff out there," he enthuses. "People are becoming more multi-skilled and there's this whole new area of cross-media art coming to the fore. It really shows how much diversity there is out there."
But enough of Mark. This is Mary's story, after all. And the Broome battler is happy to report she has plans to take her backing band, Whaddagee, on tour very soon. "I have a lot of fans in prison," she says proudly. "So it would be nice to give something back to them. Whaddayou!"