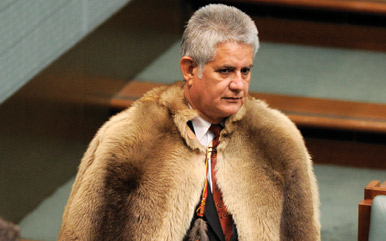 There are many sources of inspiration for Australia's first Aboriginal Member of the House of Representatives, Ken Wyatt. He is quick to recall the courage of Indigenous leader and Senator Charlie Perkins; the pride he feels in his culture and a childhood teacher that told him he could 'achieve anything he wanted'.
The experiences of his parents, particularly his mother who was part of the Stolen Generation inspire him, as does the chance to give something back to his People. The enabling power of education and lifelong learning resonates strongly with him, and the need to follow through with his focus on improving Indigenous health, is never far from his agenda. All a good mix for the Liberal Party's Member of Hasluck in a Commonwealth Parliament where his Aboriginality is both unique and powerful because of the opportunities it creates in the present and, hopefully, for the future.
"My Aboriginal heritage and education have been the fundamental drivers of where I am today. I've always had a hunger for knowledge and how to use that knowledge. In the early part of my career I used to sit in meetings and I found that in acquiring knowledge, I could then advocate and hold my own," Mr Wyatt said.
Destiny, choice and persistence are also key themes for Mr Wyatt. And just as he was lucky enough to come across a childhood mentor, he also experienced the low expectations another teacher had of his ability to continue his education because of his Aboriginality.
"I had a teacher who told me that Aboriginal kids were better off leaving school and not going any further. That drove me to shape my destiny. I think the one thing we should remember is that our culture should be the basis of our pride and to what we aspire to."
As a country kid of Noongar, Yamatji and Wongi heritage and growing up in a small wheatbelt town in Western Australia, Mr Wyatt's early thoughts were on politics and a national stage. He used to listen to Parliament and read Hansard as a young boy.
"I always wanted to walk a national stage and I think that nothing can stop us, but it is heartbreaking when our young People drop out of education."
His election as the first Indigenous Australian to the House of Representatives has been described in various ways by the political pundits and in the media, but his election is a lot more personal to Mr Wyatt.
"I wanted to see the pride in my parents' eyes, sadly my mother has passed. I also knew it would give me the opportunity to give back to my People, but I never set out to make history. I have always been somewhat of a fatalist in the sense that we are there and meant to be there.
"But my election is a chance to show quality leadership, not just Indigenous, but within Australian society and that sends a strong message to Australia. Our early political leaders, Senator Perkins, Senator Bonner and Senator Ridgeway, cut in it a period when the challenge was very tough. The courage of conviction of Charlie Perkins when he took that Freedom Ride at the risk of being hated, loathed and the target of violence wherever he went was immense."
Mr Wyatt once said in an early interview that "Journey's what you make it, your destiny is what you decide, and if you can shape that destiny, it's even better still." Looking back on his life, he is sure he shaped his destiny through persistence and choice.
"When I walked into a bollard I would look at the reason it was there and work around it. I've worked hard to show I'm capable."
In the Parliament he will get the opportunity to shape and influence in a number of key areas. He has put his name forward for the Senate's Health and Ageing committee, intends to continue his focus on education, and if issues are raised by his People and his electorate he will take them to the relevant Shadow Ministers and Government Ministers.
There is also the chance to influence young Indigenous Australians with the example he has so far set and, to that end, he has advice to pass on.
"Be proud of your cultural heritage, of who you are and the dreams you have, and never let barriers put you off."