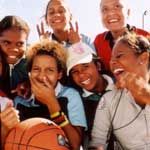 The Vibe 3on3® made its second appearance at Gladstone last weekend, with the community turning out in force to join in the basketball, hip hop and healthy living action.
Held at the Kev Broome Stadium, over the weekend of May 24 and 25, local participants' smiling faces were joined by visitors from as far afield as Rockhampton and Woorabinda.
"The community pulse in Gladstone is certainly pumping with a great turnout of enthusiastic participants and spectators", said Mayrah Butt, 3on3 Producer.
"You could tell that every single person who came to the 3on3 had an excellent time, whether they were rapping, rhyming, playing basketball or just watching their kids".
"It was great to see kids from out of town get on so well with the locals, too. It just goes to show that the long haul was well worth the effort!"
Once again with the Vibe crew in Gladstone was So You Think You Can Dance? top 20 finalist Suri, who spent the weekend hanging out with the locals and teaching young fellas how to dance. Other role models on hand also included rapper extraordinaire Brotha Black, talented artist and comedian Kevin Kropinyeri Jnr along with actor Aaron Fa'Aoso.
One of the highlights of the weekend was the 'Soulja Boy off' and for the more mature 3on3 participants, the 'Oldja Boy off' unofficial dance competitions. With the success of Soulja Boy's hit song, Crank Dat, the 3on3 began its search to find the best Soulja Boy community across Australia with strong performances at Taree, Liverpool, Murray Bridge and now Gladstone. If you're coming to a 3on3 in the near future, make sure you know it!
A big thank you goes out to the local sponsors who supported the Gladstone 3on3. They were the Nhulundu Wooribah Indigenous Health Organisation and the Gladstone Lions Club.
Congratulations to all our winners and a big thank you to all our volunteers, who helped make the Gladstone 3on3 such a success.