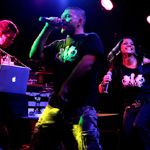 Whichway, a project of MusicNSW, exists to assist in the development of the Indigenous music industry in NSW. On October, 20-22 and 27-29, Whichway will host two series of workshops for emerging Indigenous artists interested in taking their music that one step further.
The introduction workshops will be split over two weeks by style of music, and involve practical workshops, interactive discussions and demonstrations from industry professionals and established musicians.
Whichway would like to take this opportunity to invite innovative and emerging Indigenous artists to take part in either the Song writing or Hip Hop Introduction workshops at the Gadigal Studios in Redfern. The workshops are free to participate and are targeted at passionate artists committed to their music, and wanting to improve their knowledge and skills.
The Song writing session (20 – 22nd October) will feature talks with Gregg Donovan (Mgt Josh Pyke, Grinspoon) Stacey Piggott (Two Fish Out of Water PR), Jane Powles (MusicNSW/Space Junk), plus practical workshops with Microwave Jenny and more to be announced.
The Hip Hop session (27-29th October) will feature talks with Adriana Rios (Black
Chilli Productions), Eliza Sarlos (MusicNSW/FBi) Stacey Piggott (Two Fish Out of
Water PR), Jane Powles (MusicNSW/Space Junk), plus practical workshops with The Last Kinection and Ozi Batla.
The introduction workshops are an integral part of the Whichway program, which also includes recording opportunities, ongoing support, advice, referral and auspice of grants. Whicwhay has been set up to aide Indigenous music in NSW, with the primary objective to help bridge the gap between the Indigenous and the broader music industry.
The Industry Introduction workshops are funded by the Department of Environment, Water, Heritage and the Arts, (DEWHA). To reserve your spot to either of the two workshops email Frank Trotman-Golden, Whichway Project Manager;
For all media enquiries, please contact
Meg Williams | Communications Manager MusicNSW |
02 96999706 | [email protected]
Troy Horse Building Level 3, 44-54 Botany Road, Alexandria NSW 2015
P: 61 2 96999 706 F: 61 2 96 999 763
www.musicnsw.com
Whichway Background
Whichway is a project of MusicNSW established to assist in the development of the Indigenous Music Industry in NSW. MusicNSW is a non-profit association set up to represent, promote and develop the contemporary music industry in New South Wales, Australia. MusicNSW established the Whichway project in 2000, with the overriding aim being to bridge the gap between the Indigenous Music Industry and the wider Music Industry in order to promote and develop the future of contemporary Indigenous music artists. This is being accomplished through industry workshops; by brokering relationships between industry Professionals and artists, and by helping
establish performance and promotion opportunities within the music industry and beyond.
Microwave Jenny
Australian Folk/Jazz duet, Microwave Jenny started when two young singer/songwriters, Brendan Boney and Tessa Nuku, met a year out of high school. Tessa's versatility and alternative twist to the jazz and pop genres mixed with her ability to make a killer choc top ice cream, makes this 20 year old Central Coast girl a
force to be reckoned within the Australian music industry. Brendon had spent the early part of his life growing up and playing soccer in country New South Wales where his love for music began in local high school bands. They began playing clubs and pubs where their unique brand of Folk/Jazz versions of contemporary songs soon
led to a strong following. Drawing influence from artists such as James Taylor, Bill Withers, Van Morrison, Janis Ian and Joni Mitchell, Microwave Jenny aim to promote good vibes, positive spirited music with honest, sincere lyrics and contagious melodies while sharing their unique outlook on life, love and the world around them.
The Last Kinection
The Last Kinection consists of Jacob Turier aka DJ Jaytee and brother and sister super group, Joel (Weno) and Naomi Wenitong from the Kabbi Kabbi mob of South East Queensland. Weno has been active in the industry for 15 years, in many fields, half of it in music production, producing international plays, soundtracks and all tracks to his former multi award-winning group Local Knowledge. There's no denying younger sister Nay has music flowing through her veins too. Pursuing her passion for music at the age of 16 by becoming half of the major label signed duo 'Shakaya'. Whose debut single 'Stop Calling Me', went platinum and scored them an Aria nomination and live performance at the awards. A TLK show would not be the same without the live turntable skills of DJ Jaytee. Whose skills at turntablism does only his talent in music production rival.