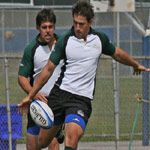 This month we chat with Australian Rugby Sevens and Santa Monica star Matt Sonter about the importance of eating right and listening to your body.
Why do you keep a close eye on your health?
My father died of a heart attack as a young man, so there has always been that fear that it could happen to me, as well as the motivation of wanting to be around for my kids. Also, my health is my livelihood; unless I'm physically fit I can't play football.
Tell us about your diet?
When I'm playing I would normally eat seven or eight meals a day. Coming out of a season is always hard because your metabolism slows down, especially as you get older, so once I stop training I've got to cut back on the carbs.
I eat cereal and fruit in the mornings, then some fruit after weights, lunchtime will usually be a wrap or something like that, today it was a cold meat platter with turkish bread. I will usually have red meat three nights a week, one night of fish and one of chicken.
How often do you eat junk food or takeaway food?
Probably around every two weeks. Basically junk food is saved for special occasions. When you're on a strict diet you need an outlet, but if you've been eating healthy and training, your body gets into a routine so when you do eat junk you often find your body will start to feel a bit lethargic. Our bodies talk to us all the time, but sometimes we just don't understand what it's saying.
Do you get regular health checkups?
Yes I do. We have a history of heart problems on both sides of my family so my cholesterol is something that I always get checked, and diabetes as well. I just feel it's important to know where I stand health wise.
What keeps you motivated to train when you are feeling tired or lazy?
When I was at school my principal said to me that every moment I'm not training my opposition is. That advice rings in my heads to this day – I know that every moment that I'm not training and not making myself better means that the door is opening for someone else.