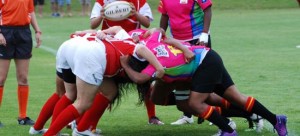 12 Indigenous women proudly represented their mobs at the inaugural women's national rugby SEVENs titles held in Sydney last month. Deadly Vibe spoke with a beaming team manager Nicky Mueller to see how the team fared.
Deadly Vibe:  You won't find a prouder sports manager around at the moment than Nicky Mueller, who has just watched 12 Indigenous women exceed all expectations at the first ever Rugby Sevens National Titles for women. How was it Nicky?
Nicky Mueller:  We had a fantastic weekend and a really great result – we ranked 4th on the first day and we then made it through to the semis of the plate final but lost 21-17.
DV:  Congratulations. Who were some of the standout players in the team over the tournament?
NM:  All 12 of the girls were stars, but some real stand- outs were Simone Smith from Port Macquarie, Talia Simon from Redfern, Doreen McGrady from Coffs Harbour, Theresa Anderson from Brisbane and another Redfern girl, Lavina O'Meally showed great leadership in her role.
Bo dela Cruz was the captain of the N.T team and of course her individual talents outshone everyone over the weekend. We were in pool D along with Papua New Guinea and South Australia. It would have been good to have played the N.T. because they were about 90% Indigenous as well, but we had the pleasure of having Bo join us in camp and she spoke and trained with the girls which they really appreciated.
DV:  This was the very first all Indigenous rugby sevens team to compete at the national and international level – how did you go about selecting the team?
NM:  The selection process all started at the Ella Sevens comp in Coffs Harbour where we picked 25 players to attend a camp at the NCIE in Sydney just two weeks before the national titles. They went through a real hard training program for two days with the Australian women's sevens coach Chris Lane and the final 12 were picked from that, so the girls had actually played together before going into the competition.
DV:  Is the women's sevens format the same as the Hong Kong Sevens played by the men?
NW:  Yes, and the women are now included in the World IRB, so they play in a similar series. The Australian women's sevens team just played in Durban and  Hong Kong and in the next few months they are off to London, Amsterdam and Las Vegas.
DV:  Rugby seems to be a real sport on the rise with Indigenous women…
NW:  Rugby Sevens is made for our mob, we have natural talent for it and we are trying to get our women to come and play rugby because they don't need to be taught much because everything is so natural for us. The ARU have identified that themselves so they are putting in a new strategy to bring more Indigenous players into rugby union, particularly with women's sevens, so we can see a lot of our girls in the Australian team within six months. We're hoping that by 2016 Olympics 50% of the Australian team will be Indigenous.
DV:   How good is it that an aspiring female Indigenous footballer now has the opportunity to travel the world and play internationally for Australia?
NM:  It must be a magnificent feeling. Touch football can only take you so far while rugby is worldwide and getting bigger and bigger. been accepted into the 2016 Olympics, so this a chance for our women out there to join the likes of Cathy Feeeman and Nova Perris and win an Olympic Medal.