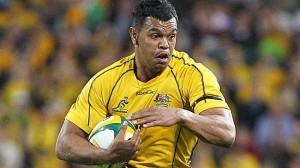 Australian Wallaby star Kurtley Beale couldn't have received a bigger boost ahead of the 2011 Rugby Union World Cup after being awarded the John Eales Medal.
The medal is handed out to the best player in Australian rugby union each year. Winning the honour caps a remarkable 12 months for the 22 year old, who puts his achievements down to hard work.
"If you are going to strive for something and reach your goals at the end of the day, hard work gets you where you want to be," Beale said at the awards ceremony.
"I've got good support around me, who have helped me get through the ups and downs.
"You always learn from what you do in the past, you always try to figure out ways to better yourself.
"It's still surprising, but I'm very honoured to receive the award. I couldn't have done it without all the boys in the squad."
Kurtley began the 2010 Super Rugby season playing from the NSW Waratahs' bench, before shedding several kilos and forcing his way back into the team's starting line-up.
His form reversal resulted in his first run-on start for the Wallabies in a match against Fiji last June. Since then he's gone from strength to strength, and recently signed a lucrative deal with new club the Melbourne Rebels.