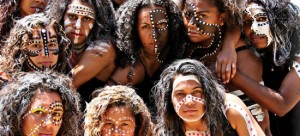 Nicole Muller is the coach of the Highlanders, an Indigenous women's rugby union club in Central Queensland.
After being involved with women's rugby league and rugby for several years and seeing Indigenous women's touch champ Bo de La Cruz recruited into the world-cup winning Australian Women's Rugby team, Nicole Muller recognised rugby as being a great new pathway  for Indigenous sportswomen. Nicole knew that rugby, which also offers the entertaining 7s format, was a game the women she was coaching in league and 13-a-side rugby were perfectly suited to.
"Playing 7s, it's like backyard footy to us, growing up with your brothers and cousins, and I just saw it as an opportunity for our girls to be involved and let their skills do the talking," says Nicole. "With Bo making her mark in Union it was a chance to promote rugby. A few of the girls I coached in league tried it  out and they liked the sport.
It's fun. You do have to be very fit, but they are pretty talented when it comes to 7s."
With fewer players on the field, a sevens game is open, fast and all about scoring points. "I tell girls, if you can play touch you can play 7s. They are similar, obviously 7s has more contact, but you can learn all the finer points. It's not a huge adjustment," says Nicole.
A large contingent from the Highlanders squad played for the National Indigenous Rugby 7s squad that competed at the first National 7s tournament of its kind in Sydney last year. The team exceeded all expectations, pushing through to the second round, eventually bowing at the semi-final stage. Since then the Highlanders have gone from strength to strength – finishing third at the Byron Bay 7s tournament and winning the South East Ella 7s tournament before jetting overseas to compete in their biggest competition yet – the New York 7s Cup held in late 2012.
This tournament is the biggest 7s Cup in the US, with more than 135 teams competing, across four divisions. The Highlanders landed in the top (premier division) where they played against America's best women's 7s teams, Washington DC, Ottawa, Canada and the New York Rugby Club. The Indigenous squad won every match they played in, including a hard-fought win over Washington DC in the final.
"It was a great feeling for them," says Nicole. "A lot of the girls were travelling overseas for the first time, which was a big deal in itself. More than anything I think they were excited to have an opportunity to represent their mobs and country at an international event, it was also about showing them what they could achieve.
"The girls trained really hard to be there, they played hard and did every thing they could to be physically and mentally ready. We prepared for the cold but you're talking about Queenslanders here playing in freezing temperature. A lot of us had never seen snow before and it snowed right after the final, so the experience was amazing. Topping it off by winning the cup just proved to the players what they can achieve."
Now that women's rugby 7s has been included as a sport at the 2016 Olympics in Rio, there is even more incentive for the current Highlander players and other Indigenous women who are sure to jump at the opportunity to play football at major intentional tournaments. Since New York, the Highlanders have been invited to play at another major tournament in Hawaii. Nicole hopes these opportunities will encourage even more women to get involved.
"I think the girls take a lot out of being in a team like this, the confidence, self-esteem, the bond between players, they're like sisters now – we've built a family feeling around it. Just before New York, we did a modelling shoot with the girls in traditional dress so they could feel confident and show pride in being Aboriginal.
"I'm wanting to get more girls involved," adds Nicole, who on top of coaching duties with the Highlanders also manages the national Indigenous team.
"Hopefully we can get some major sponsorship for a development team for all our girls in Queensland and New South Wales – we ended up taking some girls from New South Wales because they weren't going to get a chance, so we took them with us and they exploded over in New York. Simone Smith from Kempsey dominated and Simone is now part of the Australian 13s squad with Indigenous players Bo de la Cruz and Talisha McKinnon.
We've had two other girls from the Highlanders attend training with the Australian team too, so things are looking really promising for our female footballers."