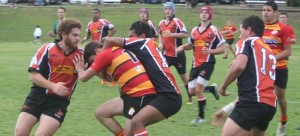 Twenty-two-year old Australian Wallaby and soon to be Melbourne Rebel, Kurtley Beale is the toast of Australian Rugby at the moment after a stellar 2011 season that saw him win the John Eales' medal and play at his first World Cup.
While Kurtley has set the rugby world on fire with his unique talent, his success begs the question… when will we see more Aboriginal rugby players starring on the international stage?
To answer that, ARU Indigenous Development CEO Matt Sonter says there are now more avenues and support than ever before to help Indigenous rugby players progress through the grades.
Best of all, programs like the successful Lloyd McDermott Indigenous Rugby Development Team, which operates at the Under 16 to Under 18 level and is now in its 20th year, doesn't just focus on footy skills but strives to develop in its players positive attitudes to schooling, health and careers, while  being role models in their communities.
Matt, who was part of a Lloyd McDermott Indigenous Development squad as a teenager, credits the initiative as the crucial launching pad that allowed him to go on to represent Australia in Rugby Sevens, and also to begin his career after footy.
"We have a process where the kids are selected from their regional areas and from that we pick a national Indigenous team," explains Matt, speaking to Deadly Vibe from the sidelines of the U16 Lloyd McDermott team's match against the Northern Territory at the recent National Titles.
"In this year's team we have two guys from the Northern Territory, two guys from Western Australia, and we've only got about nine guys in total from metropolitan Sydney and Brisbane, with the rest being from rural areas, so that's a good sign that rugby is really getting out to the grassroots in our communities."
Matt's attention is diverted back to the action on the field as the skilful Indigenous side shift the ball wide from the halfway mark, quickly reaching 15-year-old winger David Green who shows exceptional speed to race down the sideline and score.
As players and coaches on the sideline shout encouragement and directions, it's clear to see a strong bond has formed between the players in this squad. They've enjoyed a whirlwind two weeks, beginning with a trip to New Zealand where they played and also joined a Wallabies' training session on the eve of the World Cup. To top it all off, the squad also attended the Deadly Awards at the Sydney Opera House.
"The main thing is to enhance employment and education prospects for our kids, and help them achieve as high as they can," explains Matt.
"So, yes, it is a rugby program, but it's more about using rugby as a vehicle to help our kids secure their future. One of our players, Braydon Carney, wants to become an electrician, and he's going in to do an electrician's trade, so he's got his priorities there. Jacob Gagai and Josh Bowen are both taking up scholarships in Brisbane to go to school and further their rugby – so it's really about opening doors to help them achieve. We have a motto of 'no school no play'."
While rugby league has seen an explosion of elite Aboriginal players emerge in the last 10 years, rugby also has a proud Indigenous heritage, with the likes of the Ella brothers, and Mark Ella in particular being considered one of the best rugby players Australia has ever produced.
Kurtley Beale is now having a similar impact on our next generation of footballers, and with the Super 15 comp growing and offering more professional avenues for players, not to mention the lure of rugby's prestigious international competitions, Matt is optimistic about Aboriginal players making a similar impact in rugby as they have in league over the coming years.
"At the moment we've got the best player in the game in Kurtley Beale. We've also got Jim Williams, assistant coach at the Wallabies, and I really think we'll start to see some results over the next 10 years with a lot of quality Indigenous players breaking through to the top teams," he says.
Back to the game: the Indigenous squad has scored several more tries and is on the way to a comprehensive win, their ball movement and speed clearly a step-up from their competition. For the coaches, even more pleasing is the fact the team has not conceded a single try.
At fulltime the boys gather on the sideline for a team photo, and the enthusiasm of playing – and winning – with their brothers is clear to see. Matt believes there are several players in the squad who have a strong chance to play professionally, but more importantly, he says the last two weeks have given all the players plenty to think about and will put them in good stead for their future, whether that be in footy or any other profession.
"They'll leave here, and for some of them it will be the highlight of their football career. For others, it's just the beginning of a long path, and there's definitely a handful here who have Super Rugby written all over them," says Matt. "But what I think is most impressive is the effort the boys are putting in at age 16 to help them become positive role models in their own community."