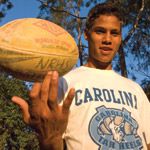 Young advisors are sought for the National Centre for Indigenous Excellence.
The National Centre for Indigenous Excellence Centre (NCIE) will open later this year and young people in Sydney from 12 to 18-years-old are encouraged to be involved in the Youth Advisory Committee (YAC).
The NCIE, on the site of the old Redfern Public School, will be a multi-use complex for sport, education, art and cultural programs for young Indigenous people from across Australia. Fostering talent and encouraging excellence, the NCIE will provide young people with the foundations to succeed.
Seven positions are available on the YAC for young people who demonstrate passion and enthusiasm on youth issues affecting the community.
NCIE facilities will include a sport and fitness centre with a multi-purpose sports court, arts & crafts, computer and other activity rooms, intensive literacy tutorial centre for 60 primary school students, sports playing field, outdoor 25-metre heated swimming pool, campus accommodation catering for short stays for 130 people, kitchen, dining & conference facilities, and community and commercial office space.
YAC members will be guided by the YMCA, which will operate the centre.
NCIE Director Sol Bellear, says the Youth Advisory Committee is a once-in-a-lifetime opportunity for young people to make a difference.
"This is a unique and exciting opportunity for young people from the local South Sydney community to have their voices heard on a national scale.," he says.
"Through this initiative local kids can speak on behalf of their peers on issues that are really important to them and influence the programs the NCIE and YMCA develop, which will not only benefit their local community, but young people from all around the country."
To be eligible for selection, interested applicants must be:
between 12 and18-years-old
passionate about youth issues
live, work or go to school in the South Sydney area
want to develop leadership skills
want to meet and collaborate with other young people

For more information, to apply online or to download an application form visit www.sydney.ymca.org.au/nidc