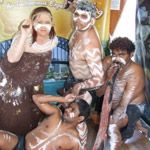 The National Apology has had far-reaching impacts on the education of young Australians about Indigenous peoples.
The Apology and its anniversary have sparked the curiosity of students and they are asking many more questions, according to Sharon Williams, Managing Director of cultural group Thulli Dreaming.
"I'd say demand for our schools workshops has increased XX per cent since the apology," Sharon says. "A lot of kids didn't understand what the apology was about."
Thulli Dreaming has operated in Sydney since 1997. Based in Mitchenbury, it is a fully-owned and operated Aboriginal organisation with a range of cultural activities including workshops, lectures, tours and camps, drawing largely from the traditions of the Ngemba people of north-west NSW. Thulli Dreaming refers to the totemic sand goanna.
"While our workshops teach about the diversity of Aboriginal people, my focus has been on NSW," Sharon says. As a result, teachers and students are learning that travelling long distances to Central and Northern Australia is not necessary to experience Aboriginal culture.
The cultural presentations can focus on a single topic in a lecture and workshops format including mural painting, learning dances and didgeridoo playing.
Far more popular for schools have been the half-day/full-day workshops where students rotate through up to half a dozen interactive workshops, culminating in a performance featuring Thulli dancers and students.
As well as learning Aboriginal dancers, students engage in a selection of workshops with up to six Thulli Dreaming tutors including basket weaving, Aboriginal art, boomerang throwing, storytelling, jewellery making, ochres and body painting, traditional artefacts and weaponry and bush tucker workshops.
The art workshops can use sand art to display traditional symbols and then have students think about the symbols in their lives to tell stories through art, while the jewellery workshops use a mix of contemporary and traditional adornments including echidna quills, shells, seed pods, berries and plants to make earrings, necklaces and bracelets that students make and keep.
A bush tucker barbecue can be included for lunch but in the bush tucker workshops students might taste emu, kangaroo and crocodile, learn about native plants and their medicinal uses, how foods were cooked and sample some damper and native jam.
Storytelling may include creation stories but the emphasis is on the moral lessons in the story including respect, sharing, caring and looking after the land.
"It's usually in the storytelling that questions about The Apology come up," Sharon says. "Often they want to know how we maintain our culture in the city."
Teachers notes and resources are included and Sharon also encourages teachers to discuss any particular aspects of the curriculum students may be engaged in so that the workshop program can be customised around a theme.
The workshop program is suitable for Years 3 to 10, adapted for learning stages and Thulli Dreaming has presented across the Greater Sydney area as well as throughout NSW including Cobar, Tamworth and Tumbarumba.
Thulli Dreaming also conducts camps for more mature students and organisations at a campsite in the Wollombi Valley, about 35 km from Cessnock.
Participants visit rock paintings, engraving sites, caves and sacred mountains, try some bush tucker and learn traditional stories and their significance, including sky stories.
A similar but shorter experience is also available on Sydney Harbour, in conjunction with Sydney Princess cruises.
The reputation of Thulli Dreaming has also spread internationally, with America's Next Top Model filming its contestants learning animal poses with Thulli dancers for a photo shoot in the latest series.
www.thullii.com.au