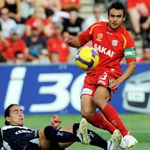 Australian soccer powerbrokers have set an ambitious 10 year-target to boost the numbers of Indigenous players in the sport.
With the AFL and NRL both making significant strides forward in Indigenous player numbers of late, Football Federation Australia plans on following suite and wants Indigenous players to comprise at least five per cent of players in national teams and competitions by 2019.
"We have not had enough players of Indigenous background in football," FFA Chairman Frank Lowy said at the launch held prior to the A-League Grand Final at Telstra Dome.
Joined by Prime Minister Kevin Rudd and newly-appointed Indigenous Ambassador Warren Mundine AO and John Moriarty AM, Mr Lowey praised the Indigenous contribution to Australian soccer thus far but wanted to see more Indigenous players competing.
"There has been some remarkable Indigenous football players such as Harry Williams and Bridgette Star who have represented their country and their community with distinction but we would like to see more," said Lowy.
"We believe we have a responsibility to encourage more young people of Indigenous background to play football as a way to improve their life through better health, better education and improved skills.
"Indigenous players from other sports show that success in sport has a very positive effect on the local community and we want football to have the same impact.
"Of course, we also hope that we will find more talented young players who can go on to play at the highest level such as the Qantas Socceroos and Matildas, as well as the Hyundai A-League and our other competitions."
Lowy said the FFA were working to have the FIFA World Cup held in Australian in 2018 and wanted to see more Indigenous Australians playing regularly with the Socceroos by then.
At the core of the Indigenous Football Development Program is an annual Indigenous Football Festival to be held in July in Townsville.
"The Indigenous Football Festival is an important component of our plan from a long term structural and development perspective," said FFA CEO Ben Buckley.
"The most effective development method is for people to play the game, and any coach will tell you that development is more enduring if there is a sense of purpose.
"The Indigenous Football Festival provides that purpose, and gives young people from communities something to aspire to participate in each year."
In 2009, the Indigenous Football Festival will bring together 16 teams drawn from communities from all over Australia.
Once selected, the 16 communities will be supported by a number of initial coach mentors led by Adelaide United star Travis Dodd, one of the few current Indigenous A-League players.
More plans outlined by Buckley included ensuring Indigenous players continue to play after each annual festival. Incorporating Indigenous communities within the FFA's ongoing talent identification programs, and providing accredited coach and referee education programs to communities.
The FFA will also help appoint Indigenous Football Development Officers in key locations and by 2010 aims to offer two young people a football scholarship to a senior secondary school or into higher education.