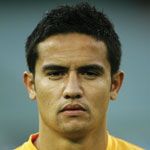 Last month, Tim Cahill became the first Australian to score a goal at the FIFA World Cup, handing the Socceroos their first ever victory in the tournament.
Ever since those two heavenly strikes in Kaiserslautern, the name Tim Cahill has became as instantly recognisable across Australia as an Ian Thorpe, a Cathy Freeman or a Harry Kewell.
Before that historic match, it may only have been the hardcore soccer fans who knew of Tim Cahill and his exploits in the English premier league. But by the next morning, in a nation that idolises its sporting heroes, Tim Cahill was our new favourite son.
When Tim reflects back on the qualifying match against Uruguay in Sydney last November – the night when 32 years of heartache, frustration and downright despair were washed away with the single strike of a football – you can still hear the excitement in his voice.
"It's definitely up there," says Tim. "I've played in a FA Cup final and in front of some big crowds before, but that was one of the biggest crowds I've seen. Then on top of that there was everything that game meant."
What that game meant was qualification into the most treasured international sporting tournament in the world. It was something that had eluded the Socceroos for three decades, becoming a goal that at times seemed impossible.
"Being one nil down, playing the whole game in Sydney and just being a part of it is one of highest peaks in my life," Tim says. "I pay a lot of respect to the supporters and the massive part they played as well."
Alongside Mark Viduka and Harry Kewell, Tim has well and truly taken his place amongst the elite class of Australian footballers currently starring on the world stage in leagues across Europe.
Like other Australians who fostered dreams of football stardom, Tim has come a long way. The club for which he now stars, English giants Everton, is half way around the world from Annandale, Sydney, where he grew up. Tim's mother Sisifo comes from Western Samoa, making him one of only two Indigenous players in the squad which headed to Germany. His father, Tim Snr, hails from Essex in England and handed down his love of football to his children.
At the age of sixteen, Tim left home for England and a shot at his dream of becoming a professional footballer.
"It was a massive sacrifice," says Tim. "My parents made a massive sacrifice for me to go over, but it just makes you more focused on doing well because of what your family has put into it. It's a difficult thing, but you just have to look at the positives and that's what I did. I was really pleased to get that opportunity, so I was grateful."
After progressing through the junior ranks, Tim eventually earned a place in the first team at Millwall, a blue collar club situated in a working class area of South London. There he became a local hero after scoring the winning goal in the FA Cup semi final. He was soon snapped up by Merseyside giants Everton in a five million pound deal.
His first season at Goodison Road was nothing short of remarkable. He was among the Premier League's top finishers; bagging a total of 23 goals for the season and helping Everton to a fourth place finish. His superb form in the premiership extended to the Champions League, where he notched up a commendable 13 goals against some of the top clubs in Europe. He ended his first year at the Blues being voted the club's best player.
"My first season at Everton was absolutely fantastic," Tim recalls. "Obviously this season has been more of a struggle, but I've still managed to play some decent football."
The struggles Tim mentions included a season-ending knee injury which placed him in doubt for the World Cup. But overcoming adversity is something he has become quite accustomed to.
"I've torn my anterior cruciate ligament in my knee, I've broken my fifth mediocarpal, I've have loads of injuries and I've had times when I've missed home and things like that," Tim says of his past troubles. "But I have a really good family.
"I've got a three year-old boy named Kyah and a one year-old Shay. My wife Rebekah and my family, they all support me. That's the biggest thing, you know? The money and everything else means nothing if you don't have family."
Tim also maintains a close relationship with his brothers, who he cites along with his father as being the major influence in his life. He calls home to speak with family just about every night, and recently flew his two brothers over to stay with him in England.
The life of a Premier League star can be a rollercoaster ride. Players can turn from heroes to villains in the blink of an eye, and top players are in constant demand from the press and adoring fans. But despite his celebrity status, Tim has remained unassuming, grounded and even humble.
"I'm quite comfortable in the premiership at the moment," he says. "When you play in front of sixty-odd-thousand people every week it's unbelievable' and I thank my lucky stars that I get that opportunity. But you have to work hard all the time to maintain the high standards of playing at that level.
"The biggest thing is to just keep playing football and keep playing well. It's a fickle sport; people forget what you did yesterday or last year, and you can get hammered over certain things because you're under a microscope. I try not to do too much media, though. I just keep to myself and my family, stay positive and don't put myself up to be shot down."
With Indigenous players filling the ranks of the other football codes in Australia, it seems only a matter of time, given the recent success of soccer in Australia, that more and more Indigenous talent will be surfacing in the round ball ranks.
"I've played alongside Aboriginal players who have come in and out of the national side and they have some great skills," Tim says. "And people like Cathy Freeman and Anthony Mundine are proof of the amazing natural sporting ability that Aboriginal people have.
"For young Aboriginal footballers out there, I'd say that if you have the athletic ability and a good attitude everyone's got a chance of being a professional footballer. The same goes for doing whatever you want to do in life – it's all about attitude and the way you conduct yourself."
Tim now personifies a new breed of Australian footballers currently raising the status of Australian soccer around the world and helping what was once a minnow of the world game to take its place amongst the sport's elite powers.
With the popularity of the World Cup, the profile of the sport and our home-grown stars has gone though the roof.
All the signs point to one direction, and if soccer is indeed entering into what appears to be a golden reign, one which may see it become future king of the football codes in Australia, Tim Cahill is without doubt the jewel in the crown – a home grown hero from Balmain who captured the imagination of the entire nation.
You would be hard pressed to find a sportsman as humble and down-to-earth as Timmy Cahill. And perhaps that is the best part of it all: in a world of super-inflated sports star egos, Tim is proof that nice guys do finish first.