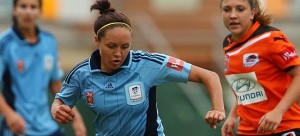 From scoring game winning goals at major international tournaments to becoming the first Aboriginal person to score at a soccer World Cup, 20-year-old Kyah Simon is no stranger to dramatic and history making feats on the sporting field.
Kyah's Golden run, from young Matilda to the star of Australian women's soccer hit a hurdle this year when a planned moved to the pro league in the United States fell through after the competition was dissolved.
After patiently biding her time as a new premier women's league in the U.S. was established, Kyah recently left home to begin playing in Massachusetts with the Boston Breakers, but not before sitting down with Deadly Vibe to yarn about the next big step in her blossoming career.
Deadly Vibe:  Congratulations on the big move to the U.S. How are you feeling about it?
Kyah Simon:  It's very exciting. It will be my first stint living away from home and playing in an overseas league, so it will be a bit of the unknown but I'm excited for the experience.
DV:  It must have been a tough blow in January when you found out that the American season wouldn't be going ahead. What were you thoughts at the time?
KS:  I had my contract signed and was ready to organise my visa to head over there and then surprisingly the news came out they were closing the league, so I was kind of left in the lurch and didn't know where my career was headed or whether I'd still be going to the U.S. or heading to Germany or Sweden. I was unsure of where I was going until the European transfer window closed. My manager and I sort of laid everything out on the table and I didn't mind sticking by Boston. So I stuck with the club and there's a new league in the U.S. that's now the top league which consists of eight teams, so it's a more stable league that I'll be heading into – which is better for women's football in the long run.
So, all in all it's about the experience and I'm still young and still have opportunities in different countries to try to earn a big pay cheque, so this year's about getting out of the country to experience new styles of football and new styles of players.
DV:  It's pretty outrageous really, you played for Australia at 16, you've had four seasons in the top flight women's league in Australia, now you're heading overseas to play professionally in the US, and you're not even 21 yet!
KS:  I'll actually have my 21st when I'm over there in June, so to have my 21st in another country, which I never thought I'd do, will be exciting. When I was eight years of age I set a few goals down and one was obviously to pay for my country and another was to play in the U.S. or in an overseas league, so to know that I've accomplished that at 20, I guess I have to pinch myself that I'm still doing it, but I am still young and hopefully this can be a pattern for me, to head overseas every year and then come back to play in the Australian domestic league.
DV:  What level of competition are you expecting in America, and do you already know any of your new teammates?
KS:  I'm actually heading over with a girl who's in the Matildas with me, Tamika Butt. She plays with the Brisbane Roar in the W-League so it will be good having another Aussie with me as we head into unknown territory. I know that Americans in general are very competitive and there football style is a lot different to ours and to the European style. They run a lot I've heard and are very athletic, so our pre-season over there should be interesting. I'm all about the experience and I'm up for a new environment to settle into. For the first time in my career I'm going to be coached by two female coaches as well and I'm looking forward to that. I think the league will be very competitive and week in week out we'll both be trying to prove ourselves to make the starting team.
DV:  You're now rated as one of Australia's best female footballers, the Breakers must be excited to have you on the team.
KS:  I'd like to think they are – but I think it's up to me to prove myself and show them what I can do. Hopefully I can bring something extra to the team and, being a striker, score a few goals throughout the season.
DV: We've mentioned your age and there's lots of football ahead of you, how much more improvement do you feel you have left?
KS:  I think a player can always improve no matter how old they are, it's just a matter of working on your weaknesses and working on your strengths. A lot of people get the wrong impression when they're told what their strengths and weaknesses are, and they just start working on their strengths, but it's more about balancing out your game and being strong in every aspect of the game. I think I can just keep growing as a player as long as I put in the hard work and want to better myself as a footballer – there's always time to grow and things to learn.
DV:  Who are the other Indigenous players in women's football to look out for?
KS:  I've got a cousin named Gemma Symon who plays for the Newcastle Jets in the W-League, and Lydia Williams is the Matildas goalkeeper – she's actually playing over in Sweden at the moment and that's her second or third stint overseas and I hear she is going really well.