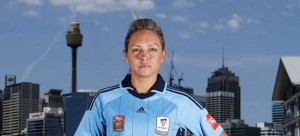 Following a successful stint playing in the United States for the Boston Breakers, 23-year-old Kyah Simon has added yet another highlight to her growing list of achievements: captaining Sydney FC to a W-League Grand Final victory, setting up a goal and scoring another.
Deadly Vibe: Congratulations on the Grand Final win, you must be very proud.
Kyah Simon: Thank you, yes definitely very proud. We started the season a young and inexperienced squad and I think a lot of people wrote us off throughout the season. I guess a bit of luck fell our way in the last round and we found ourselves in the fourth spot, so we got through to the finals series and ended up going all the way.
DV: You set up a great goal in the match, crossing from the right-hand side of the field with a pass that wouldn't have been out of place in the English Premier League. Can you run us through that play?
KS: As soon as I got the ball I heard Sammy screaming down the left wing, I know that she's very talented with heading the ball so I thought if I could put it in the right spot at the right time she's guaranteed to finish it off and she did exactly that.
DV: Is crossing the ball something you spend a lot of time practising at training?
KS: Not really, because I'm usually a central striker or central midfielder, when we do crosses and shooting I tend to stay in the middle and try to get on the end of crosses, so it was good that it came off when I haven't practised it all that much. In saying that, whenever we're striking a ball, we're trying all different techniques and accuracy is the main thing, so years of practice has contributed to that.
DV: Where do you rank the win with your achievements so far?
KS: I won my first premiership with Sydney FC in 2010, but this year being the underdogs and coming through and winning is a credit to the girls and domestically it's definitely up the top.
DV: How was it playing in America? That must have been quite an experience.
KS: I really enjoyed the experience and embraced the culture and the environment around me. Hopefully I'll return later this year but nothing's been confirmed as yet. Hopefully in the coming weeks that will be sorted out and I'll be back playing with Boston next season.
DV: Is the game over there much different?
KS: The styles of football are slightly different. The Americans are more physical and play more directly, so their fitness levels come more into play – it's running all day with the ball while with our game we play a more European style, keeping the ball rather than running a lot. We try to make the ball do more of the work. As for technique, they're fairly similar. I think Australian football can benefit if we adapt some of their physicality and hopefully in the next five years you'll see us getting on top of the Americans rather than the other way around.
DV: Do you feel you've returned a better player?
KS: I think no matter where you play overseas it gives an edge to your game. I think it has given me a bit of a mentality to adapt aspects of the way they play, fitness wise. It's definitely made me a better player and if I do go over again hopefully I can add to that.
DV: Apart from yourself, which other women are flying the flag for Aboriginal and Torres Strait Islander people in the women's game at the moment?
KS: There's Ruth Wallace from Adelaide and also my cousin Gema Simon, who plays for the Newcastle Jets. Then you've got Lydia Williams, who's the number-one goalkeeper for the Matildas at the moment.
DV: How has all this success changed you?
KS: I'm still the same person. I have three siblings and I think family keeps you grounded. I think that's where people can go wrong if they get a bit of stardom they think that their personality has to change. I'm still the same old Kyah I was 10 years ago.