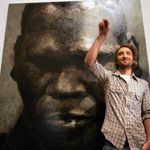 A portrait of Indigenous musician Geoffrey Gurrumul Yunupingu has been selected as the winning entry for the 2009 Archibald Prize.
The winning portrait by Sydney based artist Guy Maestri was chosen by the gallery's board of trustees from 708 entries. From 39 finalists, they selected Maestri's work, and a portrait of singer Jimmy Barnes by Ben Quilty.
Maestri said he was inspired to paint Yunupingu after seeing the singer perform in concert on New Year's Eve last year.
Yunupingu was unable to attend the announcement at the Art Gallery of NSW due to performance commitments but sent a written statement that was read out by the winning artist.
"I would also like to tell everyone I didn't win this money," Yunupingu's said, "so please don't call me asking for some."
The painter was given 40 minutes to sketch Yunupingu in a dimly lit room at Sydney airport, an experience he described as "intimate and quiet". He later immersed himself in Yunupingu's music while working on the enormous, brooding portrait.