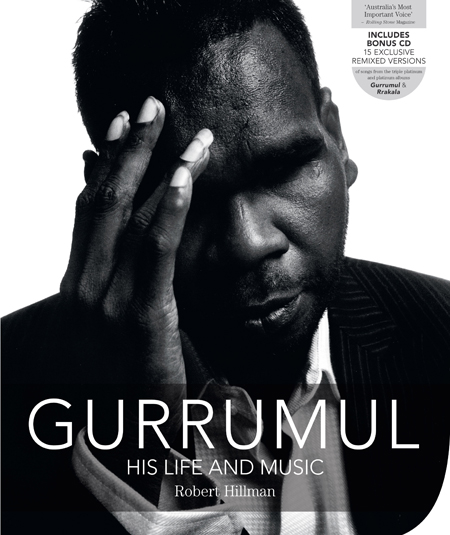 A new book about Gurrumul has been published to coincide with a special concert by the acclaimed artist at the Sydney Opera House, where he will be playing his award-winning songs with the backing of an orchestra.
Gurrumul's manager and bass payer Michael Hohnen says the book Gurrumul His Life and Music was written by fiction and biographical writer Robert Hillman. "He knew very little about Gurrumul until ABC Books asked him to document Gurrumul's story so far," Michael says. "It was a big road of discovery for that fella. Over 12 months he basically dived into the deep end and went to Elcho Island with us and also on tour with us, and he discovered that special story of what Gurrumul is about."
The author gained access to Gurrumul's family to help chronicle the life and music of one of Australia's biggest national and international Indigenous artists. "We worked closely with Robert Hillman because he needed a way in through Gurrumul's family. I find the book is such an important piece of our musical history and he gives you an outsider's perspective – from a man who knew nothing about him to someone who started listening to Gurrunul's music and discovered it was incredible," Michael says.
The book is a good introduction to Gurrumul and also gives some insights into Aboriginal culture. It also contains some rare photos. "There are a lot of beautiful photos in the book – some we hadn't seen before – pictures of him as a little boy. It is almost a family book rather than just focussed on him," he says.
Later this month, Gurrumul is playing a special concert at the Sydney Opera House. "We are doing something with an orchestra this time. We have been filming lots of family stuff at Elcho Island and we are going to present some of that footage as well. It's of his family and where he is from and also some of the dances that go with his songs – we are going to present this audio-visually above the stage," Michael says. "His music really suits an orchestra well because the record that took off for him was his solo album, Rrakala – so this is how we present the music he loves, but also give him support because he loves support as a musician. We have done a few concerts over the past six years with an orchestra and he loves it. "The orchestra is a chamber version of the Sydney Symphony Orchestra – with strings and horns and percussion."
Gurrumul His Life and Music is on sale at ABC Books. The accompanying concert is on May 28 and 29, at 8pm, in the Concert Hall of the Sydney Opera House. Tickets start from $69.