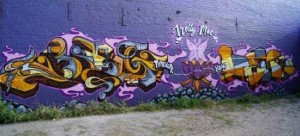 Graffiti art is gaining wider acceptance in the community as an art form and 20-year-old Adelaide artist Shane Cook is gaining traction as a talented street artist.
Shane's family is from Cherbourg Mission in Queensland, but he was born and raised in Adelaide.
"There is not enough street art about in Adelaide," Shane says, referring to what he calls 'legals', which are artworks commissioned by a private or public organisation.
In October, Shane gave Adelaide residents a look at what street art is all about with a commission to paint one side of the Adelaide Festival Centre as part of Our Mob, the annual Indigenous art exhibition.
The exhibition has the aim of raising public awareness and understanding of Indigenous art and culture. For the last seven years, Our Mob has celebrated the work of contemporary Indigenous artists, while also introducing emerging artists. Shane will join Narisha Cash to paint the Festival Centre carpark wall.
For Shane, street art is all about freedom of expression. He began painting on traditional canvas when he was a young boy.
"My mum taught me dot painting and I began selling canvases," Shane says. "When my mum got sick, I dropped out of school in Year 10 and then went every Friday to an art course. In 2009, I began working with graffiti."
He is drawn to graffiti as a way to keep in touch with his culture.
"When I was younger, my mum was moving around a lot and art was a way for us to keep in touch with our culture. I began hanging around with my teenage gang and I wanted to keep to the old ways and stay in touch with my culture too," he says.
"I use traditional designs combined with spray cans, stencilling and paint brushes."
Shane wants to see 'legal' street art grow as an accepted civic artform. Recently he's been getting commissions through schools and also from direct approaches to businesses.
"I used to do work experience with Tandanya, the National Aboriginal Cultural Institute in Adelaide and I'm now getting somewhere with my graffiti."
Like all artists, Shane tells stories through his graffiti. "Whatever I'm painting, there will be a story behind it. I recently painted a Multicultural Day Care centre. I thought the centre was a meeting place for different cultures, so I used different coloured circles that met in the middle."
Shane's street art is also good medicine for him, at times, particularly when he is angry and needs to express himself.
"I was burnt badly when I was 12 years old. I'd gone down to the park and was watching some kids lighting up antholes with a bottle of petrol. For some reason one kid threw the bottle at me when his hands caught fire – I don't know why he did that, whether he was scared or did it as a joke, or expected me to jump out of the way," he says.
"But I suffered burns to 26% of my body. I've had 14 operations all up and six skin grafts over the years."
"I had to learn to walk again and wore a special compression suit right through high school…Street art gives people a way to express themselves. When I'm angry I draw. Street art is free, there are no boundaries and you can share it."
Shane has appeared on a DVD made by the Julian Burton Burns Trust as part of the City to Bush Education Program, which was aimed at raising awareness about burns. In the coming year, he's also looking for opportunities to work with young Indigenous people in youth detention.
"I use my experiences as a way to show how I made the right decisions in life and to reinforce the message that you have to choose the right friends, and that you can walk away when people are being idiots."
He also wants to take graffiti art to the bush. "There are plenty of 'legals' to be done in communities as a way for the young people to express themselves and learn new skills," he says.