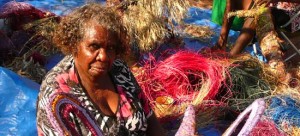 Tjanpi Desert Weavers is a thriving social enterprise supporting more than 400 women of the central and western desert region. Driven by the Ngaanyatjarra Pitjantjatjara Yankunytjatjara (NPY) women's council, the enterprise is thriving and meeting the needs of NPY women of all ages.
Tjanpi, meaning grass, is also driving culture forward through art: basket weaving, working with fibre and sculptures made out of grass and other materials. The group recently won a 2012 Deadly Award for Outstanding Achievement in Aboriginal and Torres Strait Islander Cultural Advancement and have just finished a major national tour.
It began 16 years ago with the idea of generating employment income for the women of the NPY lands, so they could stay out on Country.
"We had our first basket weaving in 1995 and word spread very quickly across the NPY lands," says Tjanpi Manager, Michelle Young.
"The enterprise came later when the Tjanpi directors decided to market and sell the works from the communities," she says.
"The idea for Tjanpi came from the women themselves before 1995. Basket weaving was introduced and flourished, providing ready cash to the women. We also go out onto the lands and provide technical skills opportunities so that more women can become involved.
"The NPY lands are 350,000 square kilometres and we try and cover as much ground as possible to open up the enterprise to more and more women."
Art is the perfect enterprise for the NPY women, Michelle says. It requires minimal infrastructure, is portable and can move around with the women.
"The women take their art wherever they go. It's a very sociable thing and everyone sits down together to work. And it's a good cultural fit. Many of the women learnt from their mums and aunties, and their art is very much linked with their lifestyle," Michelle says.
Telling the stories of the NPY lands is also another important aspect of Tjanpi's work. Large-scale works were a key part of their recent national exhibition tour, 'which developed a good reputation among Indigenous and non-Indigenous artists, and the wider public.
"When we took the exhibition national, the basket-weaving workshops were well received by all. Our women are great ambassadors for their work. We are steered by our directors and the women membership of Tjanpi. I think wider Australia also thought it was a rare opportunity to meet women from the NPY lands.
Receiving a Deadly Award was also an acknowledgement of the work of Tjanpi.
"It was recognition for all the women, and it also recognised the cultural benefits of Tjanpi. That women can stay on Country and maintain their custodial responsibilities to the land, hunt for food and bush medicines, while still doing their art," Michelle says.
"The Award provides a wonderful recognition of the many economic, cultural, social, artistic and health benefits that Tjanpi brings to the women of this region and demonstrates how much Tjanpi is valued across the NPY Lands."
At its core, Michelle says, Tjanpi is about family and community – walytja.
" Tjanpi Desert Weavers has met with such phenomenal success because creating Tjanpi work fits so happily alongside the demands, obligations and joys of family. Not confined by place or purse, Tjanpi work allows the Tjanpi weavers and sculptors to be out bush, at home or on the road, and it can be accomplished with few resources.
"It is work that encourages social and cultural obligations: families combine their trips out bush to collect grass with gathering bush tucker, hunting, maintaining custodial responsibilities, performing inma (song and dance) and collecting bush medicines," she says.
Tjanpi Desert Weavers is supported by the Department of the Prime Minister and Cabinet – Office for the Arts, Westpac Foundation, Caritas Australia, Rio Tinto and Australia Council for the Arts.