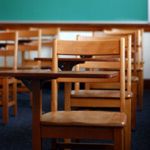 A new program aimed at reducing the high turnover of teachers in remote Indigenous areas in the Northern Territory has been formally launched.
Non-indigenous teachers brought in to work in remote areas, such as Murrupurtiyanuwu Primary School on Bathurst Island, north of Darwin, usually only stay for about 15 months.
The Northern Territory Catholic Education Office says it is essential to train up Indigenous teachers to help improve educational outcomes for Indigenous children.
Catholic Education and Charles Darwin University have now started a program training Indigenous classroom assistants as teachers.
The program will rolled out to five Catholic schools and was launched today at Nguiu, on Bathurst Island.
The Office's deputy director, Brenda Keenan, says the graduates will be role models and stay longer than many non-Indigenous teachers.
"It's actually critical," she said.
"There's an absolute shortage of quality teachers full stop."