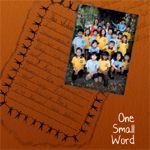 One year on, schools acknowledge the apology to the Stolen Generations
One small word changed the course of the nation. One year on, there is still much to be done in terms of reparation to the Stolen Generations and in addressing the social and economic inequities of Indigenous Australians.
The power of Prime Minister Kevin Rudd's apology to the Stolen Generation, on "Black Friday" 13 February, still resonates.
Communities, including schools across Australia, are marking the anniversary in their own ways.
Ashfield High School in Sydney's inner west has built up solid relationships with the local Indigenous communities over the past decade with a special program of events during Reconciliation Week in May and June.
While only a few days into first term, the school's Aboriginal Education Officer Janene McPherson thought it was important to observe the anniversary.
"Reconciliation Week is still our main focus," she says. "So we decided to acknowledge the anniversary in our regular school assembly, which is on Fridays."
Auntie Mae Robinson will provide a Welcome to Country, there will be a flag-raising ceremony and two Indigenous students from Year 11, Rebecca Curry and Louie Mead, will address the assembly on the significance of the apology.
Stewart House on Sydney's northern beaches will create a Sea of Hands on its front lawn facing Curl Curl beach.
The school provides a two-week break from their normal circumstances for NSW and ACT students, from infants to Year 10. Acting Deputy Principal Tony Scott said there would be a new intake in the week of the anniversary, including a large number from Moree and Mt Druitt, two high Indigenous population areas.
"We'll be explaining what the apology means on the Wednesday and Thursday to all the students," he says. "Then the students will trace their hands onto plain cardboard, which they will cut out and attach to ice-cream sticks. They'll be able to decorate them, colour them in and add a personal message if they want."
In consultation with the school's Assistant Education Officer, Leanne O'Connor, there will also be other activities, including Johnny Cakes with bush tucker jams, on Friday 13 February.
In the year since the apology, many schools have already incorporated activities and events acknowledging its significance, such as Ashcroft High School's Reconciliation Week 2008.
At Burwood Public School in Sydney's inner west, a small project developed last year with Year 2 students by their teacher Jo-anne Mulligan has grown into something much larger for the first anniversary.
"We wanted to make an impact at the school," she says. "It was such an historical event and I was very passionate about the issue. We talked about what it means to say sorry in the playground and the history of the Stolen Generations."
Jo-anne encouraged her class of seven-year-olds to write letters to the Prime Minister, thanking him for saying sorry to the Stolen Generations.
She was surprised to receive one back that said in part: "It is encouraging to hear about young people like yourselves who are taking an interest in this issue . . . I was impressed by your artwork and kind words of encouragement . . . I hope that the apology will help to heal the wounds of the past."
Jo-anne and her students were inspired to follow up with letters to members of the Stolen Generations themselves. They sent the brief, handwritten letters to the Federal Minister for Families, Housing, Community Services and Indigenous Affairs, Jenny Macklin, with a request to pass them on to members of the Stolen Generations. In consultation with her Department's Reconciliation and Reparation team, it was decided to create a booklet containing the letters with photos of the children, many from Asian backgrounds.
One Small Word will be distributed to members of the Stolen Generations who attended the apology ceremony at Parliament House in Canberra a year ago.
The school's own ceremony will take place on Harmony Day in March, when the booklet will be presented to Auntie Mae Robinson, who has been active in organising recognition of the apology in schools.