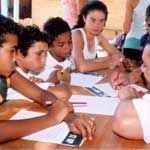 Principals across the Northern Territory have received a letter from Education Minister Marion Scrymgour outlining several new measures aimed at improving the states disturbing literacy and numeracy results.
As part of the Ministers expectations for 2009, all schools must maintain at least 90 percent attendance rates. Other measures include a strengthening of "performance management processes" for teachers and a "whole of school approach to numeracy and literacy" to ensure students undergo consistent learning programs.
"We can not be satisfied with our current numeracy and literacy results across the Territory, we need to raise the bar and expect better outcomes from our students," Ms Scrymgour said on Monday.
The academic performance of students, particularly those form remote Aboriginal communities has become a major issue for the Northern Territory Government.
About 2,000 Aboriginal children are not enrolled in school and another 2,500 fail to attend regularly.
More than 60 per cent failed the reading benchmark in the national basic skills tests, and more than 70 per cent failed the writing benchmark.
NT Chief Minister Paul Henderson said on Monday that student performance had to improve.
"There will be a renewed focus on accountability processes within schools – principals and teachers will be accountable for improving the performance of every child in their classrooms.
"Education is crucial to the future of every Territory child and we need to improve the education outcomes of all Territory students."
Government had also decided to require literacy and numeracy testing to be published on the internet.