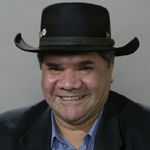 Professor Mick Dodson has spoken about his passion to improve the education of both Indigenous and non-Indigenous students during an emotional address to the National Press Club yesterday.
The 2009 Australian of the Year promised to devote his one-year tenure to campaign for all Australian children to be "geared up and ready to go" for the first day of the 2010 school year.
"The fact that some of our children are not getting the best education they could is something we should not tolerate," Prof Dodson told reporters and guests.
"That failure should be an offence to our pride.
"I want to spend my year as Australian of the Year seeing that Australian children who do not get a good education, get one."
Coined the 'Twenty-six January Twenty-ten' campaign, Prof Dodson said standards in education had fallen over the past few decades, and Aboriginal and Torres Strait Islander children in particular had suffered.
In regards to the Rudd governments planned spending on classrooms and computers, Prof Dodson said it "was worth bugger all" if there wasn't people to fill and staff them. He also called for a greater focus on building an effective curriculum that prepared children for life after school.
Prof Dodson called on people from all walks of life to pitch in and help boost the Australian education system.