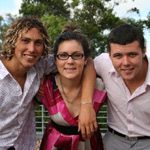 For Indigenous students Tyron Clayworth, Kyharne Biles and Andrew Julian, making a difference in Indigenous health is not just a commendable idea – it's a goal they've made concrete steps toward fulfilling.
The medical students from Port Macquarie, Dubbo and Hurstville have been named as the University of New South Wales' first Balnaves Scholars, each receiving $25,000 a year for the duration of their six-year medical degree.
The scholarships are some of the most significant Indigenous scholarships in the country. Financial support is provided by The Balnaves Foundation, led by Mr Neil Balnaves and family. The Foundation supports eligible organisations that aim to create a better Australia through education, medicine and the arts with a focus on young people, the disadvantaged, and Indigenous communities.
The three students were presented with their scholarships during a reception attended by the Balnaves trustees this week.
The students say there is a real need for qualified Indigenous doctors to help close the health gap between Aborigines and other Australians.
"Indigenous people want help – there's definitely a need – but people are also embarrassed about going to see a white doctor," Kyharne, from Dubbo Senior College,said. "The simple things they could be treated for they let them go – and that just creates bigger problems".
In 2008 there were only 120 Aboriginal and Torres Strait Islander medical doctors in Australia, with another 120 in training. UNSW is the only Australian university with an open quota for Indigenous students, allowing all qualifying students from the pre-medicine program to gain entry to the degree. All three Balnaves Scholars graduated from the program before starting their degrees.
Last year, UNSW had its largest intake (8) of Indigenous medical students, with four more students starting medicine in 2009. In total, 19 Indigenous students are studying medicine at UNSW compared to an average of just 7.5 for other universities that offer a medical degree.
Neil Balnaves, former executive chairman of media company Southern Star, said he decided to fund the UNSW scholarships after seeing first-hand the deprivations in Indigenous communities in central Australia.
"I was shocked by the conditions. There was such a discrepancy between how Indigenous people were living compared to how the rest of Australia lived – it was clear something had to be done," Mr Balnaves said.
Scholarships supporting Indigenous students were an obvious way forward. The Foundation provides the funds to UNSW through an innovative philanthropic model introduced by the Federal Government in 2001 – private prescribed funds (PPFs) – which allow individuals, families and companies to make fully tax-deductible donations to approved causes.
For the three Balnaves Scholars the road to medicine was not an obvious one. All keen sportspeople, the trio was initially attracted to the sports sciences.
"We are all keen sportspeople and we've all ended up in doctors' surgeries with sports injuries, so we know the importance of good medical care," said Andrew, who studied at Marist Bros in Kogarah.
"First I thought I'd go into sports medicine or physiotherapy. Then I got the marks and thought why stop at something like physio when you can do the lot?"
While intent on acquiring the best medical education possible, the students also plan to draw on their Aboriginal heritage in their medical training.
"It will be a two-way process," said Kyharne. "Our communities can teach us bush medicine and we can give them back Uni medicine. It will be a slightly different perspective on health."
For Tyron, who completed his HSC at Wauchope High School, the University's network of Rural Clinical Schools – in Wagga, Albury, Port Macquarie and Coffs Harbour – was an incentive to study at UNSW: "I plan to spend three years here in Sydney and then the final three years back in Port (Macquarie) at the Clinical School. That way I'll be closer to my home and family," he said.
Dean of Medicine at UNSW Professor Peter Smith said providing support to Indigenous students was essential if they were to make it through the tough six-year degree.
"Having an undergraduate medicine course here means we can attract the best students straight from school without them having to do another degree first. And having support structures along the way is vital. These Balnaves scholarships are the perfect platform for that."