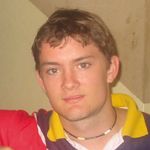 Deadly Vibe Issue 90 August 2004
Doctor in the House
Cody Morris always knew he wanted to be a doctor. So when his high school careers advisor told him that he would never make it, Cody refused to be discouraged. He is now in his second year of medicine at Adelaide University.
"The careers advisor knew nothing about any pathways for Indigenous students," says the ambitious 21-year-old. "So I rang some university Indigenous support groups, and found that Adelaide had special incentive programs to help Indigenous students get into medicine. I spent a year doing a special bridging program, and now here I am."
The experience made Cody more determined that other Indigenous students should have access to the kind of information that he was denied. He began speaking at high schools, and now mentors several Indigenous students at his local high school.
He also joined the Adelaide University Rural Medical Society, and is the University student association's Aboriginal and Torres Strait Islander office bearer.
This year, Cody was one of 15 young Indigenous people chosen for the National Indigenous Youth Leadership Group (NIYLG).
The aim of the group is to discuss issues relating to Indigenous Australians with members of Government, and to advise Government on ways to empower Indigenous young people in their communities.
"We meet in Canberra twice throughout the year," Cody explains. "Between these meetings, we develop community projects that can deliver a comprehensive picture of young people's views and attitudes, and report on them to the Government."
The NIYLG was established in 2001. The 2001 group successfully recommended the publication of Fresh Footprints, a booklet profiling young Indigenous Australians as role models and leaders, as well as a range of government and non-government programs that have supported them.
Last year's group discussed issues including cultural identity, strategies to support young Indigenous entrepreneurs, education and information networks for young Indigenous people, strategies to support young Indigenous athletes, and involving young Indigenous people in the community decision-making processes.
Cody plans to focus on encouraging Indigenous students to continue their education – whether they choose university, TAFE, an apprenticeship or traineeship.
"I want to create nationwide awareness among young Indigenous people of the opportunities that are available to those who want to gain a post-secondary education," Cody says.
"I also want to have a policy put in place that will ensure all high school careers advisors have a proper knowledge of pathways and options that are available to Indigenous students."
The first NIYLG meeting is scheduled for August 12 2004, which is International Youth Day.
What is your full name
Cody Samuel Morris
Do you have a nickname
Coadster, Code-man
When is your birthday
November 21, 1982
Where is home
Lightning Ridge, NSW
Do you have any brothers and sisters
I am one of 11 – eight boys and three girls.
Do you have any pets
I have two axolotls (Mexican walking fish). And I'm waiting for my brother's silver staffy to give birth " I'm getting one of the pups.
What do you do for fun
I play and coach teams for Adelaide University Touch Club, and play in a couple of rep sides around Adelaide.
Who is your biggest inspiration
Many of the older Indigenous medical students at Adelaide University inspire me greatly. It's great to see them succeeding and it picks me up when I feel like I'm struggling.
What is your favourite part of Australia
Uluru and Kata Tjuta National Park
What is in your CD player at the moment
R'n'B Sessions
If you could have any superpower, what would it be
Time travel, so I could attempt to rectify many of the atrocities that have occurred through history. And I could make a handsome profit by finding out the winners of future sporting events and make bets!
Who's real deadly in your eyes
David Unaipon. I had to do an assignment on him during my bridging year at uni, and it was inspiring to learn of an Indigenous academic who achieved so much despite so much adversity.
Where do you see yourself in 10 years' time
Probably stuck in some hospital undergoing specialty medical training, frustrated that I am not out in the communities already putting my skills to use!
(story 1/8/2004 end)