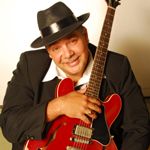 The Buddy Knox Blues Band continues a family tradition and brought a new sound to this year's Tamworth Country Music Festival.
Being a Tamworth local, Buddy Knox is no stranger to the nation's top music festival.
After wowing audiences at the Tamworth Country Music Festival in 2007 and 2008, Buddy returned with his blues band as part of the Indigenous Showcase at this year's event.
"Tamworth is probably the biggest music festival in the southern hemisphere and it's not just country music going on," Buddy says "So if there's a festival that big then you should be there.
"There's a good feeling around the place and a lot of blues lovers travel here too, so it's good playing when the festival is on."
After years of playing for a range of well-known artists such as Troy Cassar-Daley, Jimmy Little, Kev Carmody and Paul Kelly, as well as his dad's band Euraba, the news is spreading about Buddy's own style of music.
His debut album, Got Da Blues released in late 2008, picked up the New Album of the Year award at the Newcastle Blues Festival. He is also in the running for a swag of accolades at the Australian Blues Music Chain Awards to be announced this month.
"People are talking about the album and we keep hearing good things about it. I had someone tell me today they had a song stuck in their head for three days," Buddy says with a laugh.
As the son of legendary Aboriginal country singer Roger Knox, Buddy was reared on music and guitars.
"When I first started mucking around with the guitar I would have been about 10-years-old.," Buddy recalls.
"I remember playing on an old beat up guitar. We never had the E and B string on it. We only had the four strings but you can still play those chords. I remember learning how to do that.
"I learnt to play guitar by watching and listening. The guitar was always around so you could play it. Some of us did play, some didn't. I liked playing guitar so that's why I got into it."
While the guitar playing was passed down, Buddy says the blues interpretation is his own.
"My father was more of a country player and he was also into rock and roll, but there was no blues around. I'm the first and the whole thing about me is I'm really the only Koori out there doing the blues," he says.
The Knox family tradition continues in Buddy's band with his son, Teangi, playing guitar, and nephews Bareki and Barega Knox filling out the roster.
"Without dad we wouldn't have been able to learn the music or be able to do what we're doing now," says Buddy, reinforcing the importance of the passing down of knowledge through the family.
"Now my son plays in the band, and my brother's twins are also playing, so it's a similar kind of thing that happened to us. Now I'm playing and teaching these younger guys and we've got to have that. We want our grandkids to be doing it as well, so that it just keeps on going".
The Buddy Knox Blues Band took off in 2008, playing at festivals around the country including Yabun, Cutting Edge, The Dreaming, Wagga Jazz & Blues and Woodford. Buddy is enthusiastic about the demand for the band's mix of blues, soul and r&b, already booked this year as a feature act for the Goulburn Blues Festival and the Byron Bay Blues Festival.
"We're ready for whatever," he says. "The sky's the limit and we're going up."