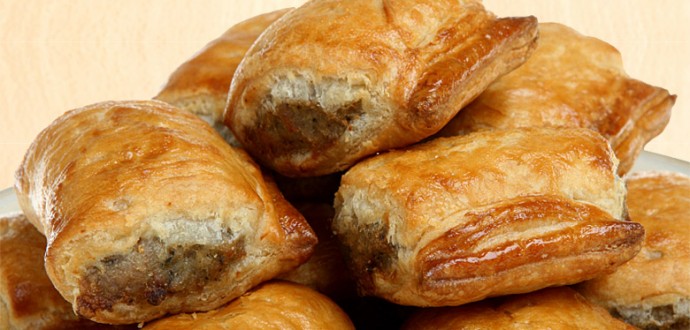 If you're not vegetarian, who can resist a good sausage roll? Not likely on a cold day. However sausage rolls can be healthy too, especially if you try adding vegetables like carrot, beetroot or zucchini to the meat mixture. Here's a tried and tested recipe this week from Vibe staffer Soozie Gillies to sample.
Ingredients
6 sheets Puff Pastry
500 grams Sausage mince
1 large Onion diced
2 cloves of garlic finely diced
2 eggs
4 Tablespoons of Chutney (homemade is best but store brought red and green tomato chutney work fine too, I use 2 tablespoons of each)
Salt and pepper to taste
Method
Mix mince, diced onion, garlic, chutney and 1 egg together well, add salt and pepper to taste. Clean hands are the best way to do this.
Mix 2nd egg with a little milk for a glaze.
Cut each sheet of pastry in half and arrange the meat mixture along the middle of each pastry half, just enough so that you can roll the meat within the pastry with about ½ a centimetre overlap to seal the roll. Brush a little of the egg glaze along the underside of the seal. Cut into the size you like, i.e. 4 little ones or 2 long ones per ½ sheet of pastry. Place on a baking tray seal side down and brush the tops of the rolls with the egg glaze. Bake in a moderate to hot oven; 200 Celsius; for 15 to 20 minutes or until golden brown. Remove from tray and set on folded paper towel for a few minutes to absorb any excess fat. Enjoy with or without your favourite sauce.
Note: to make these a healthier option try adding corn kernels, grated carrot, beetroot or zucchini to the meat mixture.