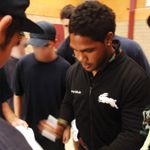 NRL player Chris Sandow describes his first visit to a juvenile justice centre as "a privilege".
"Some of them might have done the wrong thing, but I felt really honoured to be invited to meet them and have a yarn to them," says the young Rabbitohs star after visiting Indigenous youth at the Acmena Juvenile Justice Centre at Grafton, NSW.
Chris spoke about his own upbringing in Cherbourg, Qld, and his football career. He also played a game of touch football with the boys.
"Yeah, I scored a try, which brought a few smiles to their faces," he says. "But we lost 5-4. Some of them young fellas are pretty fast and slipped by me.
"Some of the boys said they were going to start playing football when they get out, so that made me pretty happy.
"They were all mission boys like me. I grew up pretty similar to them and all my mates back in Cherbourg went that way too. I'm still friends with them all, but I've gone a different way because of football."
It was Chris' first visit to a juvenile justice centre as a role model, although since trail blazing with Souths last year the 20-year-old has made many popular appearances at schools.
"Yeah I enjoy it. I like putting smiles on peoples' faces and if it helps them turn their life around, that's even better," says the NRL's 2008 Indigenous Rising Star.
Rabbitoh's front rower Jaiman Lowe accompanied Chris on the visit as part of the Souths Cares program, which was established by Souths' owners Russell Crowe and Peter Holmes à Court in 2006. Souths Cares assists disadvantaged young people and their families, focusing on Indigenous communities throughout Australia.
"The Souths Cares' program is committed to helping the community of Coffs Harbour and surrounding areas, and that is why we agreed to have our players speak with the young men at Acmena Juvenile Justice Centre," Souths Cares' General Manager John Hutchinson says.
The visitation program has also been commended by the NSW Minister for Juvenile Justice, Graham West, as inspiring young people to consider their options when they return to their communities.
"Sporting identities are important role models for these young men," he says. "For young people in custody to have the opportunity to meet positive role models can make a real difference in their rehabilitation."