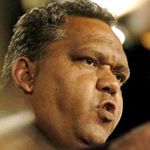 Indigenous leader Noel Pearson has criticised the Rudd Government for its "miserable" targets for reducing Indigenous disadvantage.
Speaking to the Australian newspaper, Pearson believes the Government is refusing to take up the challenge of low school attendance, pointing to the fact that it is yet to respond to Professor Mick Dodson's proposal to have every Indigenous child enrolled in school by January 26 2010.
Mr. Pearson said that ensuring children went to school could open the way to tackling many more difficult issues in Indigenous affairs.
Mr. Pearson's comments come on the eve of the first annual report on progress towards closing the gap between Indigenous and non-Indigenous Australians.
The Rudd Government has previously set goals of giving all four-year-olds in remote communities access to early childhood education within five years, halving the gap with non-Indigenous children in literacy and numeracy in 10 years and doing the same for Year 12 or an equivalent attainment by 2020.
In response to Mr. Pearson's comments, Education Minister Julia Gillard told the Australian that she could not agree more with aims outlined by Professor Dodson but would not commit the Government to universal Indigenous enrollment by the 2010 school year.
Instead, she pointed toward the Governments current reforms that covered issues such as disadvantaged schools and teacher quality, which could see major improvements in Indigenous education.
Under trials in the Northern Territory, welfare payments have also been tied to school attendance.
Mr. Pearson said that in remote areas in Cape York, school attendance ranged from 30 per cent to 60 per cent, while in his home town of Hopevale, in north Queensland, the rate was about 85 per cent.
He described the Governments current targets as "half-arsed" and "just a groundhog day for Aboriginal policy".