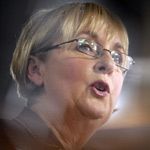 Indigenous Affairs Minister Jenny Macklin yesterday announced a $110 million cash injection to build and repair homes in remote West Australian Indigenous communities.
The funding is part of the remote Indigenous housing national partnership announced last November and will go towards new houses, major upgrades and repairs to existing houses.
Ms Macklin said it was the largest single investment to improve appalling living conditions in remote Indigenous communities.
"Housing is central to protecting children, getting them to school, improving health and hygiene and shaping parents' everyday norms like going to work," Ms Macklin said in a statement.
"This funding will enable new houses and upgrades to be delivered in major communities in West Kimberley, including the remote service delivery sites on the Dampier Peninsula, Ardyaloon and Beagle Bay."
Ms Macklin, who visited the Ardyaloon community on the Dampier Peninsula yesterday said more than 1600 Indigenous children and their families in regional and remote areas would benefit from $3 million for the expansion of playgrounds.
The playgroups are part of a federal government expansion of playgroups program for Indigenous families which will support 36 playgroups across the nation.
"Playgroups offer mums and dads, grandparents, caregivers and children with an opportunity to get together in a relaxed environment and participate in music and singing, imaginative play, outdoor and free play and art and craft activities," Ms Macklin said.
Under the program 12 playgroups will receive up to $100,400 in the first year and $91,000 in subsequent years to enable a co-ordinator to travel to communities for playgroup sessions.
Two intensive support playgroups will receive up to $300,000 in their first year of operation and $200,000 in each following year to provide purpose built vehicles to transport play equipment to isolated and disadvantaged families.